Trending:
Why cut the leaves off tomatoes: how to get a faster, record-breaking harvest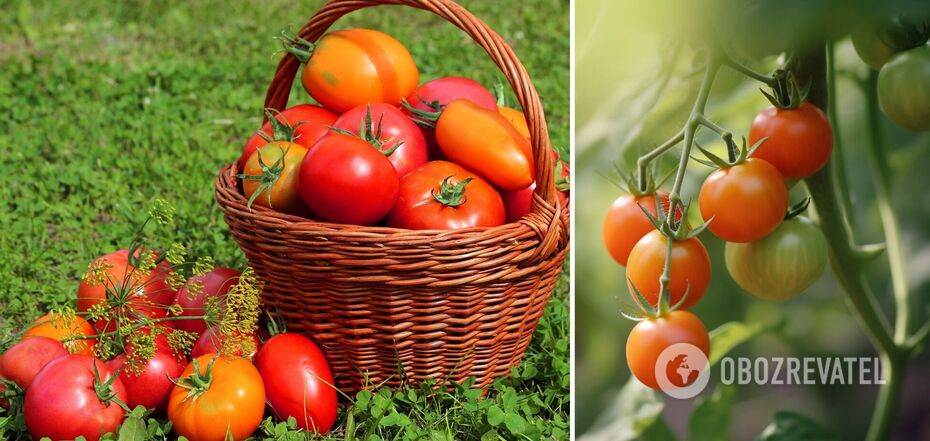 Tomato harvest
The right watering regime, sufficient light and regular fertilizer application are the three basic conditions for a generous and high-quality tomato harvest. However, sometimes gardeners do a somewhat strange procedure: they cut off the leaves on not yet ripe bushes. This is supposedly how the fruits will ripen faster, and their flavor will be better.
OBOZREVATEL analyzed whether it is necessary to snip leaves on tomatoes. Experts say that tomatoes can indeed ripen faster under the scorching summer sun, but there are nuances.
According to experienced vegetable gardeners, you can remove the leaves growing below the first brush of fruits. This should be done if they literally lie on the ground or are affected by fungal diseases.
Thinning bushes will help for the growth and development of fruits. Providing more air access in places where the bushes have grown too densely will improve ventilation and sunlight penetration.
However, you should not completely bare the plant by cutting off all the leaves. First, tomatoes on bare stems will quickly burn under the bright summer sun. Naturally, they will turn red, but the flavor characteristics will not have time to form.
Second, leaves provide photosynthesis, which is the synthesis of organic compounds from inorganic compounds using light energy. By ripping out the leaves, you are actually depriving the plant of the opportunity for photosynthesis. Tomatoes, although ripe externally, will not have in the composition of useful substances, because all the processes necessary for quality ripening will be violated.
Therefore, instead of completely cutting off the leaves to accelerate the ripening of the crop, you should feed the plants with quality fertilizers. For example, phosphorus fertilizers increase resistance to unfavorable conditions. Nitrogen fertilizers can also be used. They are useful for building up the vetegative mass, in particular stems and leaves. Boron will help to harvest a large and high quality crop. What other fertilizers are useful for tomatoes and what to do if the plants suddenly yellowed leaves - read in the material.
Earlier OBOZREVATEL told about the guaranteed method that will save wilted tomatoes.
Subscribe to the channels OBOZREVATEL in Telegram , Viber and Threads to be aware of the latest events.