Trending:
Why a tea bag tag is needed: few people know the answer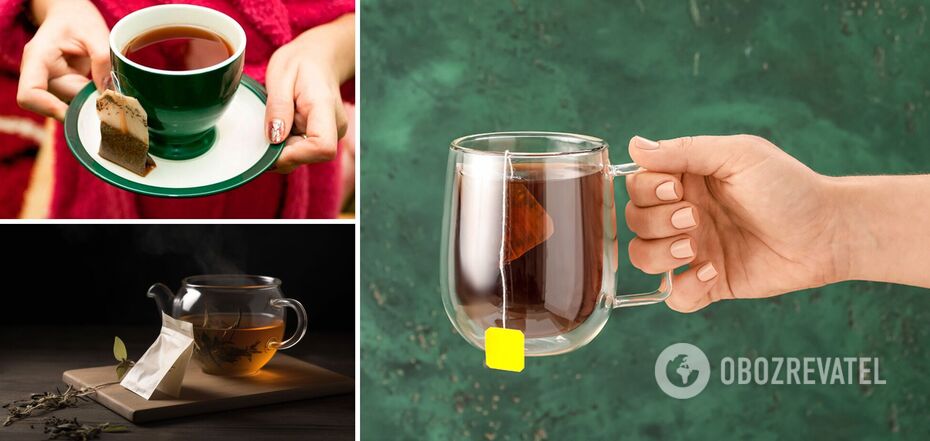 How to brew tea correctly
The name of the manufacturer is usually written on the tag of a tea bag. However, few people know that this is not only a marketing ploy by manufacturers aimed at visual advertising.
If you thought that the purpose of the tag was solely to dip the bag into the cup during the brewing process, you're right, but there is one thing you should know. OBOZREVATEL figured out why you need a tag on a tea bag.
The label serves as a kind of "handle" - without it, it would be inconvenient to dip and pull the bag out of the cup.
In fact, the purpose of the tag is somewhat different, and few people are aware of it. It is used to fix the bag in the cup when pouring boiling water. Experts say that you should brew a packaged drink as follows:
Step 1. Put a cup on the table, put the tea bag inside, and press the paper tag down with the bottom of the cup.
Step 2. Fix the tea bag and only then pour hot water.
Step 3. Wait until the tea is brewed and remove the bag.
This way, the tag prevents the thread from being washed away inside the container, and after brewing, the bag can be quickly and easily removed.
There is an additional version of the tag - it helps to squeeze out the remaining liquid from the bag. The string is wrapped around the spoon and pressed lightly while holding the tag.
By the way, an interesting life hack is gaining popularity on the Internet - tea with strawberry tails. Yes, it may sound a little strange, but those who have already tried the drink claim that the tip really works. The tea takes on the aroma of fresh strawberries - rich, delicate and with a pleasant sourness. Read the article to find out how to make the summer drink.
Earlier, OBOZREVATEL told whether you can drink tea at night.
Subscribe to OBOZREVATEL's Telegram and Viber channels to keep up with the latest news.