Trending:
Who will have time to get rich by the end of May: the lucky signs were named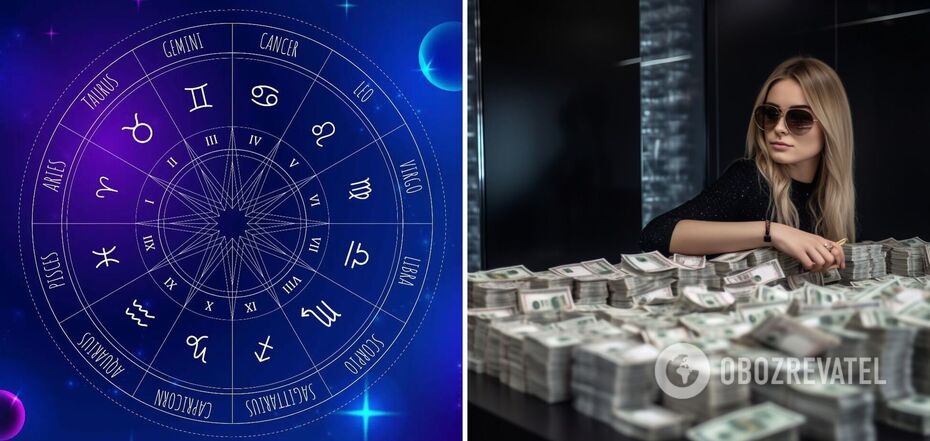 There is not much time left until the end of May. But astrologers say that it could be a time of real financial luck.
The Horoscope for the coming weeks tells you which signs are the lucky ones. Find out what the stars have in store for you.
Aries.
There are no major changes in your financial situation. The situation will be generally stable, but be aware of the remaining risk of unforeseen expenditures until the end of the month. It is better to postpone big purchases for the time being. Especially taking into consideration the unstable period ahead.
Taurus
You are expecting substantial profits - expected and unplanned. Moreover, the representatives of the sign will be lucky not only in financial matters. Try not to lose your head over this. The best way to take advantage of what you will receive is to invest it. Approach the selection of projects for investment wisely and soon you will reap the rewards.
Gemini
At the end of May, you will have a career breakthrough with a corresponding increase in profits. However, much depends on your efforts. If you will not try to move forward, the fortune may not turn to you. So take action.
Cancer
From the beginning of the month, you feel your cash flow getting stronger and stronger. And closer to the end of the month it will become more and more turbulent. Literally at the end of May, expect very lucrative offers from partners or long-time colleagues or acquaintances. Even if their ideas seem absurd, still consider them seriously - they could turn out to be very profitable.
Leo
The amount of money you'll receive in the near future will allow you to go on a nice shopping spree or splurge on your long-held dreams. Don't deny yourself that. And risk playing the lottery - money rain may fall just because of such activities.
Virgo.
You need to handle money especially carefully. Your financial flow is at a minimum now and you shouldn't wait for a chance for additional earnings. You'll have to deal with all your problems on your own. Take this as an opportunity to learn from your own mistakes. This is just a bad streak and it will soon be over.
Libra.
Approach spending consciously and in a balanced way if you don't want to get into serious financial trouble. Make only really necessary purchases, and put any surpluses away in savings. For example, start saving to buy your own home. Every hryvnia you save now will pay off.
Scorpio.
Your appetite for risk can be a big letdown. Impulsive expenditures can drain your budget. Therefore, plan your purchases in advance and do not put on the list the things that are not really necessary for you. If possible, see a financial advisor to correct your habits.
Sagittarius
A lucky start to the month may make your head spin, but don't be fooled by it. At the end of May luck will turn away from you and you will have to rely only on strict calculation. Do not spend and do not invest money thoughtlessly, there is a high risk that these expenditures will be in vain. Give yourself time to think properly about the use of your money.
Capricorn
Try to prove yourself at work. Your management is set to give you a raise with a pay rise right now. Feel free to initiate conversations about it, present your ideas, and be a visible employee. Luck is on your side, so don't sit idly by.
Aquarius
You are ending a period of storms and swings on the financial front, and soon things will settle down. Do not count on exorbitant success, but try to enjoy the stability that the stars send you.
Pisces.
You've outgrown your position, including financially. But the transition to the next stage and growth will not be given to you easily. You'll have to step out of your comfort zone and put in the extra effort. Do not lose time, because this window of opportunity opened to you not for long.
Previously OBOZREVATEL told which zodiac signs will bring great success next summer.
Subscribe to OBOZREVATEL channels on Telegram and Viber to keep up with the latest events.