Trending:
Who will get a promotion and a new salary: financial horoscope for September 2023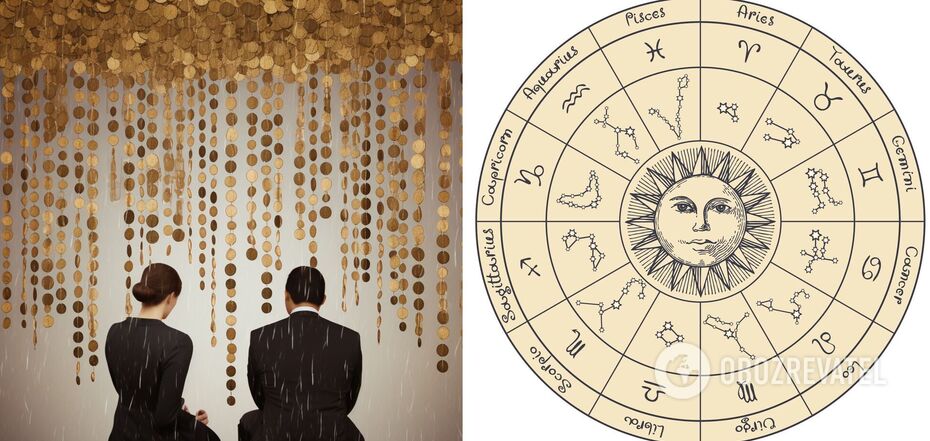 Astrologers call for caution with finances in September
The planetary influence of September 2023 will have a serious impact on the financial situation of most zodiac signs. Moreover, many changes will come as a real surprise.
What to prepare for - pleasant surprises or blows, astrologers said. They have compiled a financial horoscope for all zodiac signs, which will show you how to take advantage of the favourable influence of the planets and avoid pitfalls.
Aries
The month will be uneven in the financial sphere. Despite the instability, don't let uncertainty overcome you. Then you will successfully get through all the difficulties. The main thing is to show perseverance and determination. Look for new ways to increase your income and beware of risks. Be thoughtful about both investments and expenses.
Taurus
You will remain on solid financial ground, but avoid any overspending. Consider long-term savings and investment strategies. It's time to learn how to use your financial resources to achieve your goals. Look for opportunities to earn extra money, but avoid taking unnecessary risks.
Gemini
Finances in September will require a careful approach. Think about your future goals and develop a strategy to achieve financial stability that will help you reach them. Be careful with large expenses and avoid unnecessary risks. Use your creativity to find new sources of income.
Cancer
The stars point to great opportunities for growth in the financial sector. Focus on managing your resources and take a sensible approach to any risks. Consider alternative sources of income and think about investing. With competent management, you can achieve a stable financial position.
Leo
Ambition and self-confidence will help you cope with financial difficulties. Pay attention to your goals and strategies and take advantage of opportunities to increase your income. Don't let fear of risk stop you, but at the same time avoid making rash and hasty decisions. Prudent management will bring financial growth in the long run.
Virgo
Responsibility and thoughtfulness will be the key to financial success this month. Manage your expenses carefully and keep an eye on your investments. Consider strategies to save money and increase your income. It's important to stay focused on your goals and avoid unnecessary risks.
Libra
A variety of financial opportunities will open up for you, but be careful where you invest your money. Manage your expenses wisely and use your creativity to find new sources of income. To ensure a stable financial future, think about long-term goals and strategies.
Scorpio
With your perseverance and determination, you'll be able to successfully overcome financial difficulties. Consider alternative sources of income and avoid unnecessary spending. In September, it's important to be aware of all the risks and make informed decisions at the same time. If you have opportunities to increase your income, take advantage of them.
Sagittarius
Your optimistic outlook will help you find new opportunities. Think about how to increase your income in the long term and be creative in finding additional sources of income. Try not to take any risks in September, so as not to compromise your own stability.
Capricorn
If you're struggling with financial problems, focus on solving them and don't let anything else distract you from this task. Think about your future goals and strategies for achieving financial stability. Take a cautious approach to any investment. It's time to direct your financial resources towards sustainable growth.
Aquarius
Various financial opportunities will open up for you, but try not to take unnecessary risks. Consider low-risk, long-term investment strategies. Be open to new ideas and opportunities. Don't let your finances take their course, so as not to create unnecessary problems for yourself.
Pisces
The month will bring you many opportunities. Creativity will help you find new ways to use your personal finances. But make sure it's not a risky investment. You can lay the foundation for a stable financial future for a long time. Take a balanced and thoughtful approach to this.
Earlier, OBOZREVATEL published a horoscope for September 2023 for all zodiac signs.
Subscribe to OBOZREVATEL's Telegram, Viber and Threads channels to keep up with the latest developments.