Trending:
Which signs are in for a real epiphany: Tarot horoscope for the week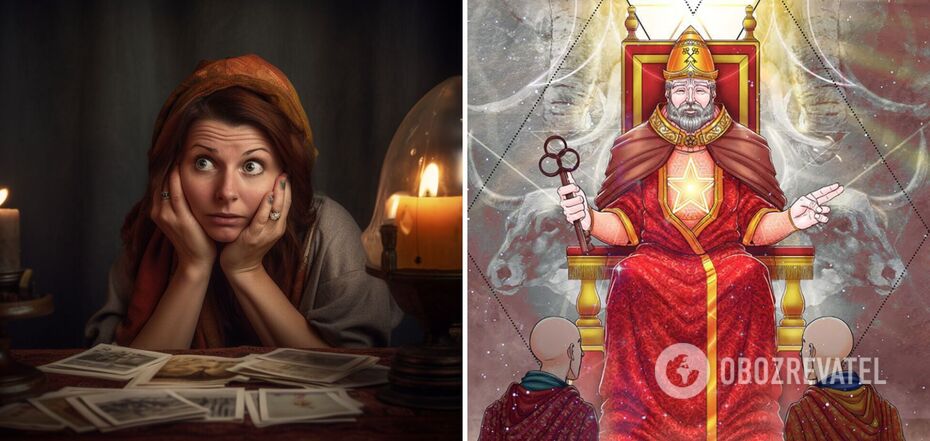 The beginning of a new week is the right time for accurate planning. And to make sure that everything will be successful, it's a good idea to consult the Tarot cards, which will give a prediction of the course of events.
Ready horoscope for the next seven days will tell you which card will fall to each of the zodiac signs, and which will determine the week as a whole. Find out what's in store for you.
The card of the week: the High Priest.
The major card this time represents belief systems, traditions, and institutions. You've probably been feeling like you've lost your way lately and need something or someone to get you back on track. Surrounding yourself with like-minded people can help. After all, allies always become a powerful source of support in any endeavor.
Aries - Ace of Swords.
This is your breakthrough moment. The fog of uncertainty dissipates and you begin to feel the situation clearly. You may even feel like you are seeing the world in a whole new way and looking into the heart of things. Prepare yourself for a situation that may not be what you thought it would be. In any case, a clear vision is better than the most beautiful illusion.
Taurus - Eight of Swords.
You just feel like you're trapped right now, and you can't see a way out. Your card advises you to wonder if this is a result of your own actions. You may be the one who has placed limitations on yourself that are preventing you from moving forward. Look for insecurities, fears, and doubts holding you back and determine if they are far-fetched.
Gemini - Magician.
Do your best to reach your potential this week. The whole world will assist you in doing so. You can get everything you want. Match your desires to your opportunities and move forward. Looking for a new job? Trying to start a romantic relationship? Trying to improve your financial situation? Start taking concrete steps in that direction.
Cancer - Ace of Cups
A wave of good mood awaits you this week. You'll be overflowing with positive energy, feeling happy, supported, and hungry for creativity. Now is a good time to work on strengthening existing relationships or meet new happiness. Open your heart to feel the love you deserve. Drink from the cup of spiritual fulfillment.
Leo - Empress.
Fate has gifts in store for you. But to enjoy them, you need to slow down and connect with your feelings. Eat a delicious meal, smell the aroma of the flowers booming around you, and enjoy the warm spring sunshine. Open all your senses to the pleasure the world sends your way.
Virgo - Justice.
Put yourself at the center of things this week. Consider whether your beliefs align with what you do in life and whether your choices reflect your inner self. This is especially important if you are facing an important decision now. Any step you take can have long-term consequences. Both positive and negative, it all depends on how honest you are with yourself. Let your intuition be your compass so you can avoid unintended consequences in the future.
Libra - Three of Pentacles.
You're on the right track. Especially if you're doing something new, move forward with confidence. No matter how grandiose your idea is, you have the skills and capabilities to make it a reality. But try to prepare a deliberate plan to achieve the goal. And don't be afraid to ask for help from others. Teamwork will be very successful.
Scorpio - Six of Wands.
You will be a winner this week. You didn't just work hard to achieve your goal, you achieved true recognition. Embrace your success without being overly modest or belittling your own achievements. This is no time for shyness. It's the right thing to do when your accomplishments are recognized, enjoy it.
Sagittarius - Nine of Swords.
You are suffering from loss or disappointment. Probably quite unexpected ones. The oppression is so intense that you may feel like it's forever. In reality, you just need time to heal. Give yourself enough time to grieve, you need to live your grief fully. Yes, this is a difficult period for you, but it is only a period. The dark streak will end and you will go forward again.
Capricorn - Jack of Cups.
Keep your heart and your mind open. Release your inner child, with his playfulness, fearlessness, and idealism. The past may have forced you to protect yourself from pain with cynicism and isolation. But that armor also prevents you from enjoying life. Don't let your past dictate your future in this way. Learn to trust again.
Aquarius - Eight of Wands.
Your energy is at its peak right now, you just need to put it into action. There's likely to be so much on your plate this week that you won't know what to grab onto. Think about the distractions and get rid of them - then things will go smoother and you'll start to move steadily toward your goal. Use the energy the universe gives you to your advantage, and turn it into a period of high performance and progress.
Pisces - Four of Swords.
You need to recover, rest and reflect on your life. You've probably just recently been through a difficult situation. It could have been work, relationships, or health problems. So feeling exhausted physically, mentally, emotionally, or spiritually is normal in such a situation. Don't try to squeeze out the rest of your energy. Pause for recovery and return to the game only when you feel full of energy again.
Previously OBOZREVATEL published a love horoscope Tarot for all signs in May.
Subscribe to OBOZREVATEL channels on Telegram and Viber to keep up with the latest events.