Trending:
Which side to put the foil on the baking tray: explanation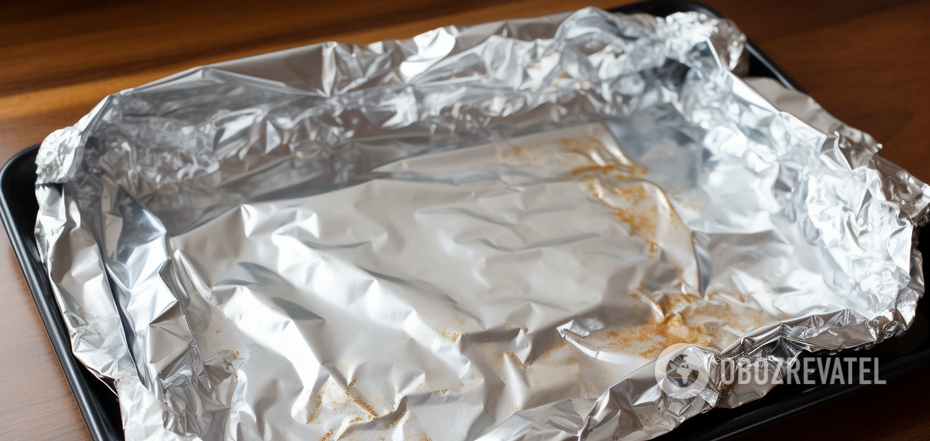 How to bake food in foil
Baking food in foil is one of the most popular methods of food heat treatment. Fans of healthy eating are especially fond of it, because foil allows you to preserve the useful properties of foods and at the same time the dishes are cooked easily and quickly.
However, foil can not be used in the microwave: the shiny material will reflect microwaves and the food inside will remain cold. To know how to cook dishes in the oven and what side to put the foil on the tray, read OBOZREVATEL material.
How to choose a foil
Foil of different thickness is sold in supermarkets. It is designed for different purposes.
Thin foil with a thickness of 9 microns is not recommended for use in thermal processing as it is designed for storing products only. For example, it can be used to wrap a sandwich for traveling.
11 micron foil is suitable for baking meat, fish and vegetables in the oven, while 14 micron thickness is optimal for grilling.
Which side to put the foil on the baking tray
An important question is often raised on culinary forums and blogs: which side of the foil to cover the baking tray with? There is an opinion that matte and glossy surfaces have different properties and for the cooking it is better that the matte side is outside. It supposedly will not repel heat and the food will bake faster.
In fact, the different surfaces are explained by the peculiarities of the technological process. Special metal rollers are used to roll aluminum into thin sheets: one side is polished to a shine and the other is not. Thus, it does not matter which side to put the foil in the oven as it will not affect the speed of baking or taste.
Pay attention to the density of wrapping. If potatoes, meat or fish are wrapped loosely and a layer of air is formed between the product and the foil, it can increase the cooking time.
Surface differences when storing food play a minor role. Cooks advise wrapping food with the glossy side inside if you are going on a trip and want to keep the food warm for as long as possible. A matte surface absorbs heat, while a glossy surface partially reflects light and heat. However, these differences do not matter during heat treatment.
Earlier OBOZREVATEL shared what utensils can be used in the oven.
Subscribe to OBOZREVATEL channels in Telegram , Viber and Threads to be aware of the latest events.