Trending:
Which houseplants are poisonous to cats: a list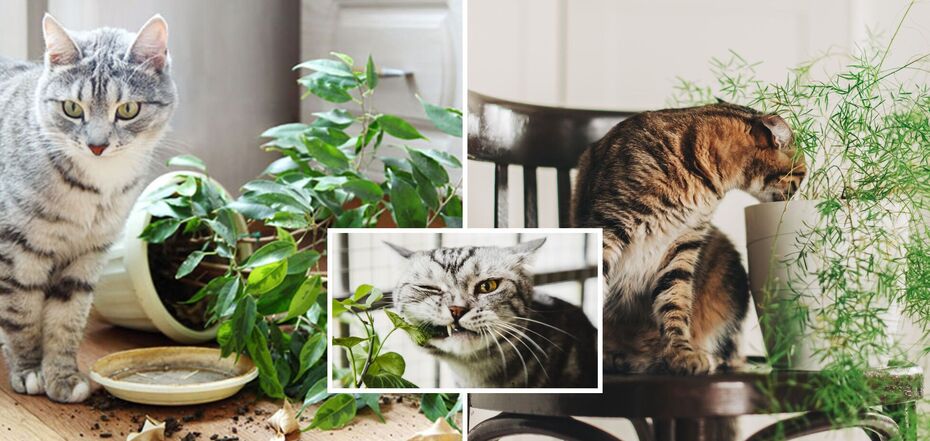 Cats like to eat indoor plants
There are a number of indoor plants that are very harmful to cats. Pets are often attracted to them by their smell, but cats are unable to recognise which flowers can be poisonous to them.
If a cat swallows a toxic plant, it will show symptoms of intoxication, such as heavy breathing, vomiting, and swelling. In some cases, veterinary intervention becomes urgent. Sante Plus tells which indoor plants are poisonous to cats.
Symptoms of poisoning
It is important not to miss the first symptoms of intoxication. You may notice the following in your cat
heavy breathing - the lungs and airways are affected by poisoning
excessive salivation and difficulty swallowing - the mouth, throat, or esophagus are affected
vomiting - intoxication has reached the stomach and intestines
diarrhoea
irregular heartbeat (slow or rapid)
kidney problems - the cat drinks too much water or goes to the litter box too often.
Dangerous plants for cats
Dieffenbachia
Dieffenbachia poisoning can cause kidney damage and problems with the digestive system in cats. In severe cases, intoxication can even cause blindness.
Aloe vera
Be careful to keep aloe out of the reach of animals. Aloe will cause diarrhoea and vomiting in the cat.
Ficus
Popular ficuses cause digestive problems, vomiting, muscle tremors and mouth irritation in cats.
Yucca
This is a very poisonous plant. If you swallow its leaves, your cat may even become paralyzed.
Amaryllis
Amaryllis bulb is the most harmful for cats. The plant contains lycorin, which causes gastrointestinal disorders, tremors, lethargy, and other neurological effects.
Monstera deliciosa
Monstera or philodendron is also very dangerous. It causes respiratory and digestive disorders, diarrhoea and bleeding gums.
Also harmful to cats are:
azaleas
lilies
crotonas
daffodils
fern
poinsettias ("Christmas stars")
eucalyptus
Which plants are non-toxic to the cat
But it's not all bad. Here is a list of plants that are non-toxic to cats:
boston fern
tilandsia
hoya
kentia
calathea.
Earlier, OBOZREVATEL told about the most affectionate cat breeds.
Subscribe to OBOZREVATEL's Telegram and Viber channels to keep up with the latest news.