Trending:
Which dogs are the fastest: breeds that go over 45 km/h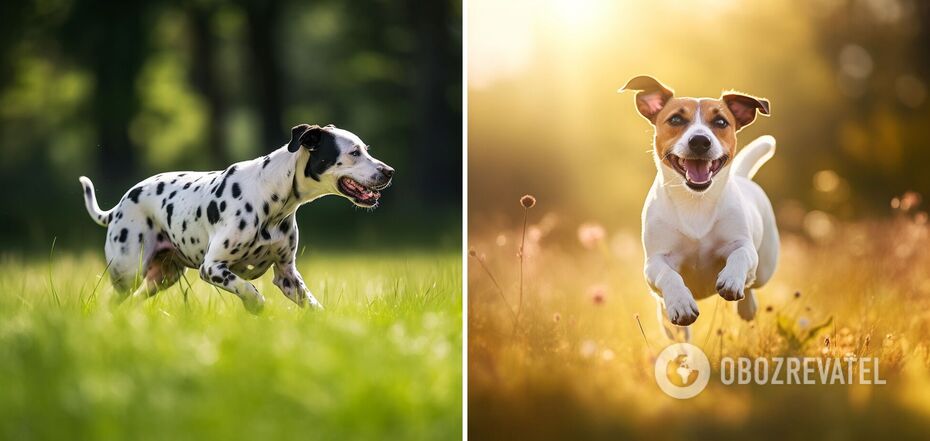 Dalmatians and Jack Russells are excellent and tireless runners.
One of the most popular dog sports - agility - involves overcoming an obstacle course for time. And here you can't do without a fast-legged pet. But which dog breeds can run the fastest?
Wag! has compiled a dozen dogs that set real speed records. They're great for training, but they're also great for lounging on the couch at home.
Greyhound
This dog is the record holder among all breeds and can accelerate up to an incredible 72 km/h! It is also one of the most affectionate breeds in the world. Greyhounds will be equally happy to lightning-fast fetch and snuggle at your feet.
Saluki
This dog has a top speed of 67 km/h. Running is something they have been doing for hundreds of years. These dogs were bred to hunt rabbits. But they also make great house pets. Saluki is a great companion at home, on a run, and even at the beach.
Afghan Greyhound
This amazingly graceful creature with a long coat can reach speeds of up to 65 km/h. At the same time, this tall, elegant dog will accompany you on a leisurely walk through the city with an expressive sense of dignity. Afghans are also very affectionate to children.
Vizsla
This breed has it all - looks, intelligence and mad speed. Very lean but muscular, this dog can run up to 65 km/h. Or it can be your best friend who will be happy to do various other exercises. After all, this dog loves exercise and training.
Whippet
The average running speed for this breed is about 55 km/h, but Whippets can run up to 65 km/h. The breed was bred to hunt rats and other small rodents, so speed is one of its outstanding qualities. At the same time, these dogs are very attached to their owners and give them their whole heart.
Jack Russell Terrier
These little guys can run like the wind. 60 km/h for such a small dog is simply exorbitant. Jack Russells were bred to hunt foxes, so get ready to have a little lightning in your house. And also a loyal and very cheerful friend.
Dalmatian
The speed of 60 km/h can be easily conquered by this spotted dog. Therefore, this dog, which by nature is an excellent defender, will easily catch up with any of your offenders. And Dalmatians are also excellent house dogs with a great character.
Russian borzoi
On short distances this refined dog accelerates up to 58 km/h. But a representative of the breed will not chase anything. They are bad guards, because they are completely devoid of aggression. But they love to laze on cushions and keep people company.
Doberman-pinscher
A professional security guard like the Doberman simply has to be a skillful runner. Therefore, a speed of 52 km/h is quite possible for this strong dog. At the same time, a well-bred Doberman will be a real center of love and tenderness.
Border Collie
Earlier OBOZREVATEL told about the breeds that can smash everything, if the apartment will be too small for them.
Subscribe to OBOZREVATEL channels in Telegram and Viber to keep up to date.