Trending:
Where to relax for the weekend in Zakarpattia: top 5 best locations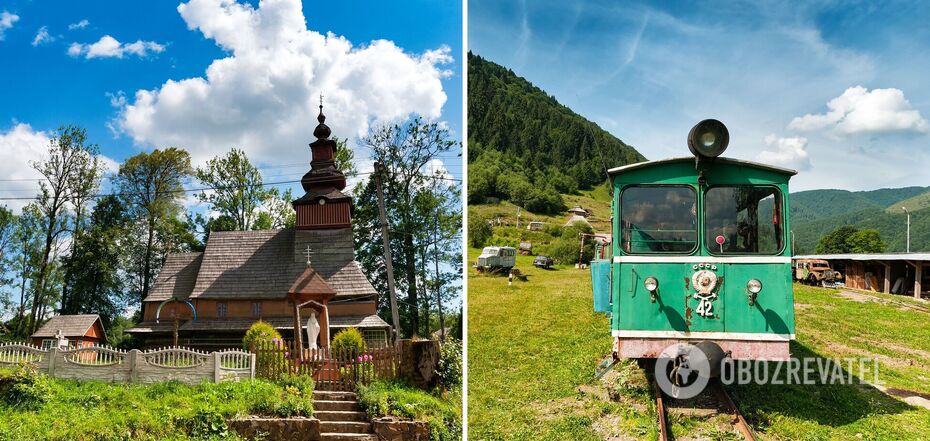 Tourist places in Zakarpattia
If you are tired of constant stress and are thinking about choosing a place for a short break, why not go to the mountains for the weekend? We have collected for you the top 5 places to visit in Zakarpattia.
Mukachevo
One of the most famous and second largest settlements in the Zakarpattia region. Although the city may not look big, it is home to more than 85 thousand people. And there is no shortage of tourists here, as the local architecture, which skilfully combines Renaissance, Gothic and Baroque buildings, cannot fail to impress.
The city has a well-developed transport hub, which will greatly simplify your journey. From Kyiv, Odesa, Kharkiv and other major cities, the most comfortable way to get there is by train, while from Uzhhorod or Lviv you can get there by car or bus.
In Mukachevo, you will find a wide range of hotels. Depending on your budget, you can choose a location in the heart of the city or closer to its outskirts. In any case, the town is quite compact, so you can easily get to all the tourist locations.
You will see Palanok Castle right away, as it rises above the city on a 68-metre-high mountain of volcanic origin. The exact date of its foundation is unknown, but the first mention dates back to the XI century.
This fortification was of strategic and defensive importance and was rebuilt over many centuries. Mukachevo was attacked several times by nomadic peoples, but the castle was almost never captured. Today, its gates are open to visitors. And what a view of the city opens up from here!
Synevyr Lake
The largest lake in the Carpathians with an area of about 7 hectares is rightfully considered one of the seven natural wonders of Ukraine. The reservoir is surrounded by dense forest on all sides, making it a pearl amongst the greenery. It is popularly called the "eye of the sea". By the way, one of the lakes in the Polish Tatra Mountains has the same name.
We recommend getting to Synevyr by car. Of course, you can also use public transport, which runs to the village of Volovets, located 70 kilometres from the lake. From there, buses depart quite often and take you almost to the shore of the "sea eye".
You can book a room in one of the local hotels located near Synevyr. They promise European service for reasonable prices. If you don't want to stay near the lake, then look for accommodation in Mizhhirya, 32 kilometres away, or return to Volovets.
A trip to this lake is a great excuse to spend the whole day outdoors exploring its surroundings. It should be noted that you won't be able to swim, as it is prohibited for environmental reasons. Not to mention the fact that the water does not warm up to more than 13 degrees Celsius, which is not conducive to swimming even on the hottest day.
This place attracts artists and poets, as well as lovers of ancient folk legends, with its landscapes. If you get bored, you can always climb the Shipot waterfall or watch bears in the unique rehabilitation centre located nearby.
Berehove
A small town located 70 kilometres from Uzhhorod and 5 kilometres from the Hungarian border. It is attractive to tourists due to its winemaking traditions and the presence of thermal springs. They have a positive effect on the cardiovascular system and help treat skin diseases.
Berehove can be reached by public transport: first by train to Mukachevo, Batyiv or Uzhhorod, and then by bus.
You can choose a room in one of the local hotel and recreation complexes. There are also several hotels and private apartments at your disposal.
The main attraction of Berehove is its thermal pools. It is not surprising that most tourists who come here aim to improve their health.
In addition, Berehove has a winery complex where you can buy a tour of the production facilities and get to taste local wines.
Unfortunately, you will only be able to see the incredibly beautiful residence of the Schönborn counts from afar, as it is a working winery. However, the historic centre of the city also has something to offer.
Uzhhorod
The largest city in Zakarpattia has been part of Hungary, Austria-Hungary, Czechoslovakia, and the Ukrainian SSR since its inception. So even now, you can see the imprints of different cultures here. By the way, some citizens still use the old Hungarian name of Uzhhorod - Ungvar.
The best way to get to Uzhhorod is, of course, by train. Rail connections to the largest cities of Ukraine make travelling to the heart of Zakarpattia comfortable for tourists. You can also go from Lviv, where buses run quite often in this direction.
There are more than 40 hotels of various types in Uzhhorod. For those tourists looking to organise a budget trip, there are many comfortable hostels.
Uzhhorod has attractions for every taste. Those who like ancient history can visit Uzhhorod and Nevytsky castles. Architecture lovers are advised to spend the whole day exploring the alleys, squares, museums and cathedrals.
The mini-sculptures that began to be installed in the city only a few years ago deserve a special mention. They give the city a special cosiness. But in May, people come here for a piece of Japanese culture, because at this time sakura trees are in bloom in Uzhhorod.
Solotvyno
Solotvyno is a small village located very close to the border with Romania. For a long time, the settlement lived on salt production, but by 2012 all the mines were closed due to flooding.
As in the previous cases, you can get to your destination by train (from Lviv or Uzhhorod to Tyachiv) or by car.
Of course, you can choose an apartment for your holiday, but we recommend staying in one of the local health resorts. They are located in the middle of the Transcarpathian forests near many hiking trails.
On the outskirts of the village is one of the main attractions - Lake Kunigunda. Many tourist portals jokingly call it the "dead sea in miniature". Due to the high concentration of salt, the water in it has healing properties.
Earlier, OBOZREVATEL told where to spend the weekend in the Kyiv region.
Only verified information is available in our Obozrevatel Telegram channel and Viber. Do not fall for fakes!