Trending:
Where not to plant winter garlic: how to do it right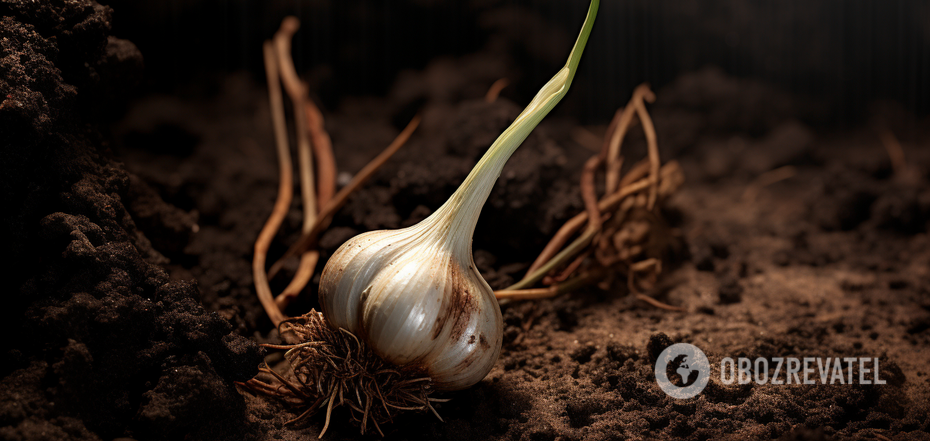 Properly planted winter garlic will give a harvest as early as July
Among the vegetable garden works that are carried out in the fall is the sowing of winter crops. They allow for a quicker harvest in the next season. Crops suitable for such cultivation include, in particular, garlic.
Winter garlic gives larger and juicier fruits with a tough rind and matures in July. When and how it is better to plant, learned OBOZREVATEL.
The optimal time for planting winter garlic is a period of about 3-4 weeks before the first frost. During this time, the plant should have time to take root, but at the same time do not begin to sprout green, because of this plant can freeze and die.
For fall planting of garlic choose a plot in the sun - the vegetable should receive a lot of light to effectively form roots. But it is important to choose a bed in which humus has not been introduced for at least 2-3 months.
Also do not plant winter garlic where potatoes, beets, carrots, radishes and onions grew in the summer. An unfortunate choice will also be the place where garlic grew before. But good predecessors for the vegetable are beans, peppers, peas, peas, zucchini, cucumbers, wheat and pumpkins.
To prepare the site for planting garlic, it is about two weeks before it is dug about 20 cm deep. To improve the quality of the soil, sand, sawdust and humus in equal amounts are added.
Garlic cloves are buried in the ground for 10-15 cm. The distance between the rows on the bed should be 20-25 cm, and between plants - 10 cm. Before immersing the cloves in the ground, the bottom of the hole is sprinkled with sand. This will keep the seeds from rotting. Experienced gardeners also recommend mulching the bed with winter garlic to prevent it from freezing when the nights get cold.
Earlier OBOZREVATEL told how you can use the haulm of beets and carrots after harvesting these root crops.
Subscribe to OBOZREVATEL channels in Telegram and Viber to be aware of the latest events.