Trending:
"Where are the air defense systems?" Russians hysterical over another drone attack on Moscow City, dreaming of Ukraine's surrender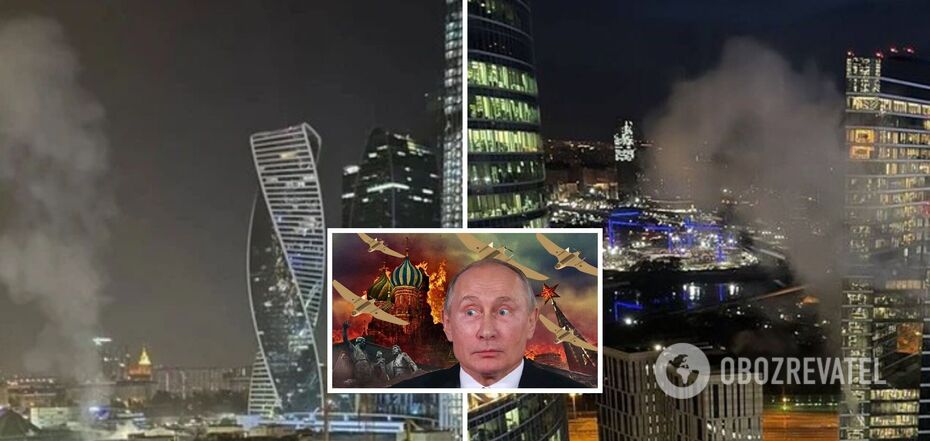 Russians are hysterical over another drone attack on Moscow
Russia claimed a drone attack on Moscow on the night of August 18. According to Moscow authorities, one of them crashed into Expocentre in the Moscow City district, damaging a non-residential building.
This news has caused another hysteria among Russians. They demanded strikes on Kyiv, Kharkiv and nuclear facilities in Ukraine and dreamed of our country's surrender. Russians write about this in comments to the news about the drone crash in Moscow City on one of the popular Russian z-publics.
Moscow Mayor Sergei Sobyanin announced the destruction of a "Ukrainian UAV" on the territory of Expocentre in Moscow on the morning of August 18. According to him, "There is no significant damage as a result of the debris fall. It is known about the damage to the facade of the Expocenter on 20 squares.
However, the Russians are extremely concerned about the next attack of "shot down drones". They demand to kill all Ukrainians, "level Ukrainian cities and infrastructure to the ground" and dream of Ukraine's surrender.
"Level Kyiv and Kharkiv to the ground so that there will be no desire to launch more", "Maybe some strikes on Bankova?", "Another pathetic attempt of khokhly to shit under our door. We are waiting for explosions in Ukroreich", "Ports will be attacked in the evening show again", "This kind of news is already fucked up, when will we read about the surrender of Khokholand? Destroy the place where they are launched from, how long can we put up with this shit?", "Kill all khokhols!" citizens of the aggressor state wrote.
Some Russians still believe in Kinzhal missiles, declared by the Russian authorities to be "supersonic" and "unparalleled", and demand "retaliatory strikes."
"Why aren't they hitting Kyiv? It hasn't been touched for a long time", "Maybe it's time to strike with an announcement? Today a drone flew to Moscow, tomorrow a Kinzhal will fly to Kyiv and then the Crimean Bridge will be hit. After three or four bridges, there will be a realization in the dumb heads that the balance is a bit wrong," commentators wrote.
Russians also can't understand why the bombing returned to them after a year and a half of daily bombing of Ukraine. Those who rejoiced at the "destroyed buildings and ports" in Ukraine suddenly remembered international law and the need to honor agreements.
"The Ukrainian drone raid on Moscow is an attack on the safety of our peaceful population", "Khokhly swore that they would not launch bombs on Russian territory! They gave their word to the Americans! Should I say it was the Nazi regime in Kyiv that swore?. You can't trust them. No peace talks with them. They will lick their wounds and start bombing peaceful people again," the comments read.
There is also a proposal to "destroy nuclear reactors" in Ukraine and strike Europe, equating a drone attack near Moscow City to an attack on a nuclear power plant.
"Then ours will destroy all the nuclear reactors in Ukraine and Europe will be hit if they continue. I thought we agreed not to touch nuclear power. It's the end of civilization. You justify it and want to attack nuclear facilities in cities. The innocent people who died are apparently the 'valuable prize' that your patriots dream of," one commentator wrote.
In addition, many Russians are extremely interested where the air defense system has gone.
"Where is the air defense?" , "I'm embarrassed to ask: how do the drones reach Moscow? No one sees them before that?", "If there were air defense, a drone would not fly into the center of the capital", "I was at an exhibition there in May. There were a lot of guards. How do they allow UAVs to fly into the center of Moscow?" citizens of the Russian Federation ask.
It was reported that explosions occurred and smoke billowed on the site of drone strike near Moscow City at night. The explosions as usual sounded near the Moscow City business center in the area of the Evolution and Federation towers. The offices of three Russian ministries are located there: the Ministry of Economic Development, the Ministry of Industry and Trade and the Ministry of Finance.
The Russian Federation complained about a UAV attack. Propagandists claimed that one of the drones hit Expocentre on Krasnopresnenskaya Embankment near Moscow City. They claimed that only a partial collapse of the outer wall in one of the pavilions on an area of about 30 square meters was recorded.
Only verified information from us on the Telegram channel Obozrevatel and Viber. Do not fall for fakes!