Trending:
When to water garden and indoor flowers in summer to grow better: tips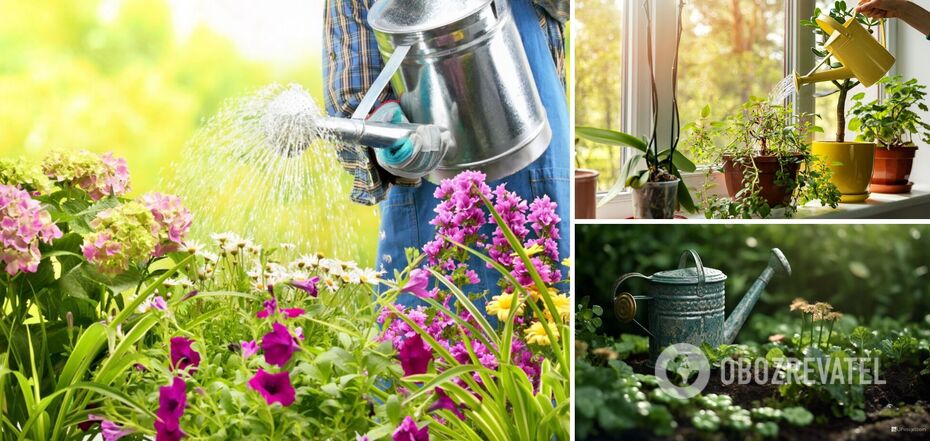 Rules for watering flowers in summer
The right watering regime is the key to long blooming of garden and indoor flowers. The best time to water your plants is in the morning, although alternatively the evening hours can be chosen. But keep in mind that plants have different needs and that only plants in pots or hanging vases may need daily watering when the weather is hot and sunny.
Overwatering can lead to fungus and a number of other diseases. Homes and Gardens experts tell you when to water your plants to optimize their growth.
When to water backyard plants
Morning is the perfect time to water in the summer.
"To keep plants healthy, the best time to water the garden is in the morning. The flowers will then have a supply of water to use during the day, which in turn will prevent them from drying out," stressed Samantha Richards, Gazeboshop expert.
"This way you give the soil the best chance of hydration because the coolness of the morning allows water to flow into the root system before evaporating," added Tom Hilton, hydroponics specialist at National Greenhouse.
If you can't take the time to water your plants in the morning, do it in the evening. Cooler conditions provide less water evaporation. The main disadvantage of watering at night is that wet leaves and soil create conditions for mold.
Excessive moisture also stimulates snails and slugs. And daytime watering speeds up the evaporation process and dries out the soil.
Watering plants in hanging pots
Potted plants and plants in hanging baskets may require watering twice a day when the temperature rises above +29ºC. These flowers should be moistened in the morning and evening.
When to water house plants
The basic rule for houseplants is the same as for houseplants.
"The best time to water is early in the morning, especially during the hot summer months. This not only prevents excessive evaporation, but also gives the leaves and stems enough time to dry, reducing the risk of fungal infections," said gardener Charlotte Bailey of Oh So Garden.
Overnight watering is acceptable in the warmer months, but in cooler weather the water will become stagnant, leading to waterlogging.
In the past OBOZREVATEL told us how to water roses so that they bloomed lushly all summer.
Subscribe to the channels OBOZREVATEL in Telegram and Viber to keep up with the latest news.