Trending:
When to prune raspberries: to fruit before frosts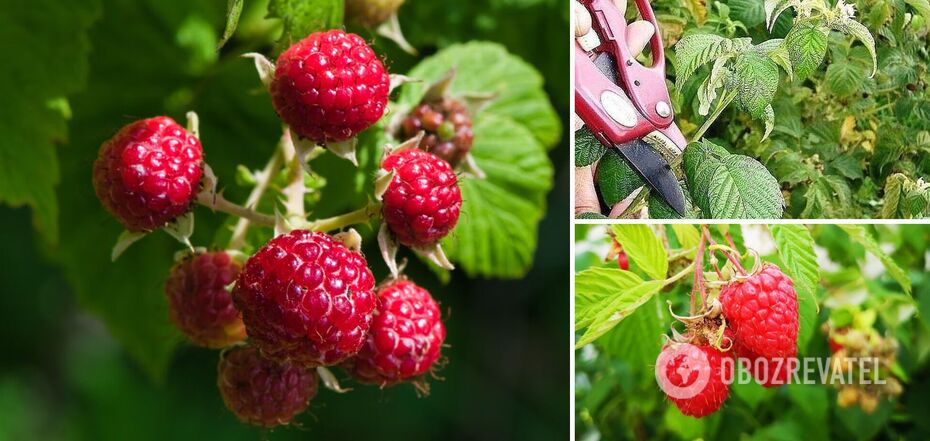 When and how to prune raspberries
To get a bountiful raspberry harvest, you should prune it regularly. This is especially important for remontant varieties, which can bear fruit several times a year. If you neglect the basic rules of care, this property can be lost and the bush will give berries only once a season.
With insufficient and irregular care, the second harvest can be much worse - the berries will be small, watery and sour in taste. Why and when to cut raspberries, read in the material OBOZREVATEL.
The right time for pruning
If raspberries are cut early, all nutrients will not have time to flow from the stems to the roots. This can significantly worsen the next season's harvest.
Usually, raspberries are cut in the fall. For ordinary varieties, September and October are optimal, that is, relatively warm periods without significant frosts. Remontant varieties are recommended to be pruned later - in November or even early December.
How to prune raspberries
Experts do not recommend thinning raspberries annually. The optimal option is once every 2-3 years. Densely planted bushes will give a poor harvest and can start to get sick.
Dry branches will no longer bear fruit, so they should be cut without doubt. In total, it is advised to leave a total of 5 healthy stems on each bush. To prevent the reproduction of pests, raspberries can be cut under the root.
If there are many green leaves on the branches, it is recommended to leave half the length. Two-year-old stems differ in appearance from green young branches - they should also be cut back.
Features of remontant raspberries
Remontant raspberries can be cut under the root, removing all the above-ground part and cleaning the soil from pests. Gardeners note that it is not necessary to additionally cultivate the bush or the ground with chemical means.
In addition to low pruning, high pruning is also used. The stems need to be shortened only halfway. That is, leave about 1 m. Such pruning will help to collect a generous harvest in the fall.
Earlier OBOZREVATEL told what to feed raspberry bushes in the spring, so that the harvest was gigantic.
Subscribe to OBOZREVATEL channels in Telegram and Viber to be aware of the latest events.