Trending:
When to plant garlic for winter and how to prepare the bed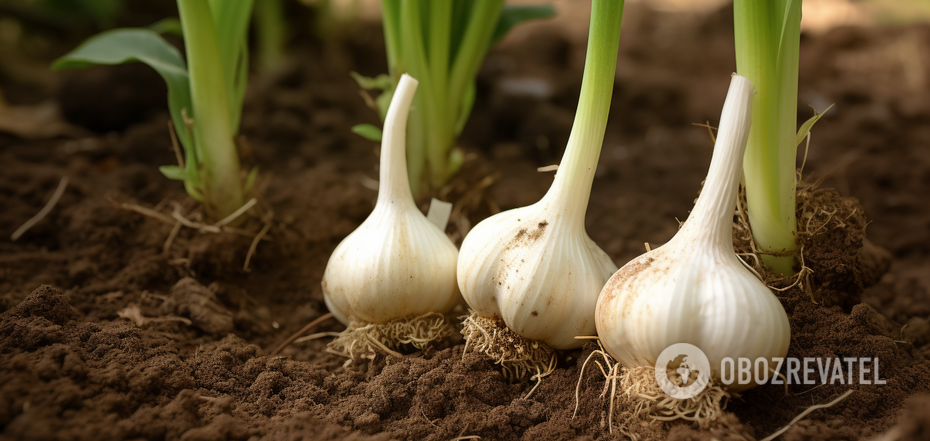 If you sow garlic for the winter, next year's crop can be harvested significantly earlier
Garlic is one of the vegetable crops that mature quite late. But you can get a faster harvest if you sow vegetables for the winter.
OBOZREVATEL will tell you how to do it and what are the main life hacks of experienced vegetable growers.
When to plant winter garlic
For the plant to have time to root well and prepare for wintering, it should be planted in the soil about 35-45 days before the beginning of stable frosts. During this time, it will develop a strong root system, but will not release leaves yet. The optimal time for planting garlic in the fall is from the end of September to the end of October, depending on the climate.
How to prepare a bed for winter garlic
For planting vegetables, you need to choose a sunny area where water does not stagnate. A good choice will be a place where potatoes, cabbage, legumes, pumpkins or gourds have previously grown in the summer. It is better to avoid beds where onions or garlic have grown, as there will be little nutrients needed by the plant in the soil. Preparation begins a few weeks before sowing. All weeds are thoroughly weeded out before cultivating the land.
If the site is clay, you need to add a bucket of sand and peat per 1 square meter. Peat soil in the same ratio is enriched with sand and loam. Add two buckets of clay soil and a bucket of peat.
As a fertilizer, it is good to use humus in the proportion of 5-6 kg per square meter. But this can be done only once a year. If the bed has already been treated in this way, it is better to give up the remedy. You need to add 30 grams of superphosphate and 20 grams of potassium salt per square meter with or without humus. Next, the land with fertilizers is re-compacted and leveled with rakes. For disinfection, the bed should be drenched with a solution of copper sulfate at the rate of 1 tsp. per 10 liters of water, and then covered with a film. After a few weeks, the earth will be ready. You are left to scatter urea over the surface two or three days before planting garlic.
How to sow winter garlic
First, you need to disassemble the seed garlic into cloves and select only whole and healthy and treat them against infections. Do this immediately before planting.
The depth of the furrow for sowing winter garlic should not exceed 10 cm and the distance between them should be 20-25 cm. The teeth are laid in these hollows about 10-15 cm apart, covered with earth and mulched to protect them from freezing.
Garlic will sprout as soon as the weather is suitable for it in the next season. They should be ready for the harvest a few weeks earlier.
Earlier OBOZREVATEL shred when to collect different varieties of apples.
Subscribe to OBOZREVATEL on Telegram and Viber to be aware of the latest events.