Trending:
When to harvest pumpkin: signs of ripening that not everyone knows about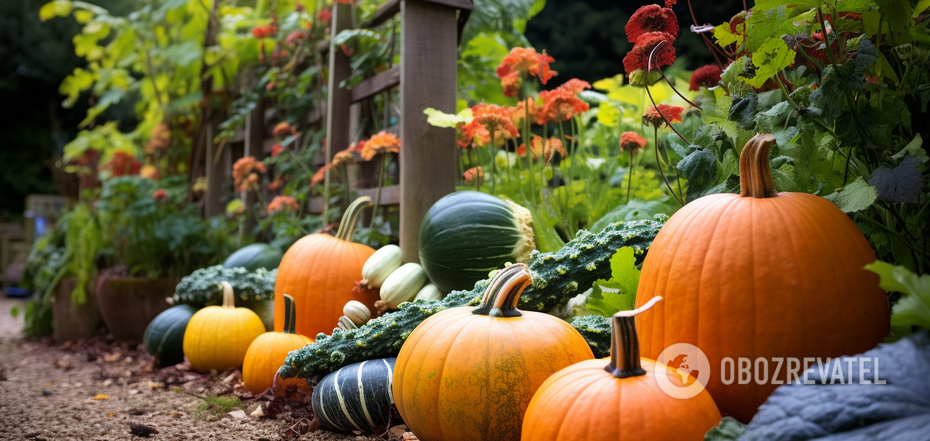 How to store pumpkins in winter properly
It would seem that it is quite easy to determine the ripeness of the pumpkin: as soon as it acquires a characteristic color and the stalk dries up, you can harvest. However, not everything is so simple. Medium-ripening and late varieties may not have time to ripen before the first frost.
There are unfavorable seasons, so early autumn frosts or heavy rains may spoil the harvest. To know how to feed pumpkins during the ripening period, read OBOZREVATEL material.
How to make pumpkins ripen faster
At the end of August, experienced gardeners advised makштп potassium-phosphorus fertilizers. They will help the fruit to ripen faster. In this case, the skin will acquire the necessary density and the pulp will be filled with nutrients. Fertilizers also contribute to better storage.
Watering gourds should be stopped a month and a half before harvesting. It is better that the fruit ripened not on the ground, but on a plank, straw, foam or sand so puddles do not form under it during rains and the fruit will not rot.
How to know when your pumpkin is ripe
Be sure to write down the dates of sowing seeds or planting seedlings in the open ground.
Early varieties of pumpkin ripen in 90-95 days from sprouting.
Late ones mature in 110-115 days or more.
The date of planting will help to analyze ripeness of the crop. For long-term storage, it is better to plant late varieties as they can ripen during storage.
Here are some signs of ripening:
Shabby leaves began to dry up.
The skin has acquired a color that corresponds to the characteristics of the variety.
The ripeness of varieties with green coloring is determined by the stalk. Pumpkins with a green, tough, fibrous and even semi-dried stalk will be stored longer.
The skin becomes thick and tough.
How to store pumpkins
Even if you determined the ripeness of pumpkins properly, but removed them too late, they will not be stored for a long time. Harvest them before the first frost. If you did not manage to do it before the cold weather, cover the pumpkins with agrofiber. Mature pumpkins can withstand the first frosts, but half-mature pumpkins are unlikely to survive. Fruits with damaged rinds will quickly spoil.
The "tail" should be cut with a sharp, clean secateurs, leaving 5-10 cm. Pumpkins with broken rinds will not stay fresh long.
Put the fruit for storage and try not to scratch it, damage the skin or hit the fruit hard.
Pumpkin can be stored at +15+20°C, but the fruit will lose up to 20% of its weight over time. The ideal temperature is +3+8 ° C. It should be stored dry room with humidity of no more than 70%.
Also OBOZREVATEL shared what crops are not too late to plant in the vegetable garden to get a harvest before the first frosts.
Subscribe to OBOZREVATEL channels on Telegram and Viber to keep up to date with the latest events.