Trending:
When to dig out the garlic: what the ripe heads look like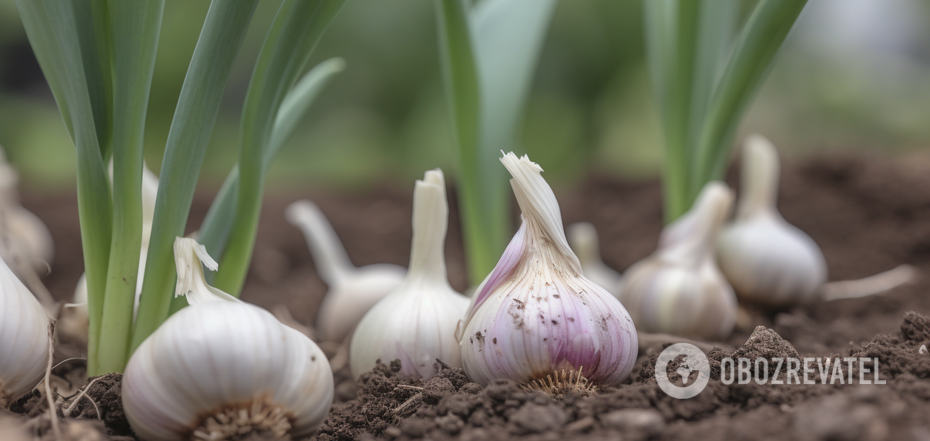 How to tell if the garlic is ripe
Gardeners start harvesting winter garlic as early as mid-July. However, the ripening time depends on many factors: rainfall, temperature fluctuations and the characteristics of the variety.
If you dig up winter garlic too early, it will be quite soft. And late harvested garlic is not suitable for long-term storage and will spoil quickly. Read how to understand that the garlic is ripe - read the article OBOZREVATEL.
When to dig garlic
It is important to notice the first sprouts, because it is from them that the timing of winter garlic harvest is calculated:
Early-ripening varieties can be dug 85-95 days after sprouting;
Late varieties are harvested when at least 100 days after sprouting (the optimal time is 100-110 days).
Summer garlic varieties that are planted in spring are usually harvested in August.
The time for harvesting spring garlic is determined by the yellowing leaves.
The best thing is, of course, to simply dig out a few heads and check that the fruit is ripe. So on to the next point: How do you know when the heads of garlic are ripe?
Characteristics of ripe garlic
First of all, take a look at the tops. When the garlic is ripe, the tops are yellow and dry and begin to slope down.
Another obvious sign is that the heads are firm. Softness indicates that the garlic still needs to stay in the soil.
In mature garlic, the root neck is drying out.
Try separating the slices - if they come off easily and peel off, the garlic is ripe.
The scales on the heads should have a purple tint.
Rules for digging up garlic
7-10 days before harvesting, the soil should be partially raked away. The heads should be dug up with a shovel or pitchfork together with the stems and leaves. Then gently peel the garlic from the soil and put it out to dry. After the pre-drying process, the garlic should be bundled up. Gardeners advise cutting off the stems and root system a few weeks after digging.
The next step is sorting. Remove damaged or infected heads and get rid of sprouted garlic.
Previously OBOZREVATEL told you how to preserve garlic for the winter.
Subscribe to OBOZREVATEL channels in Telegram and Viber to keep up with the latest developments.