Trending:
When it's time to pluck tomatoes: easy to tell by the peel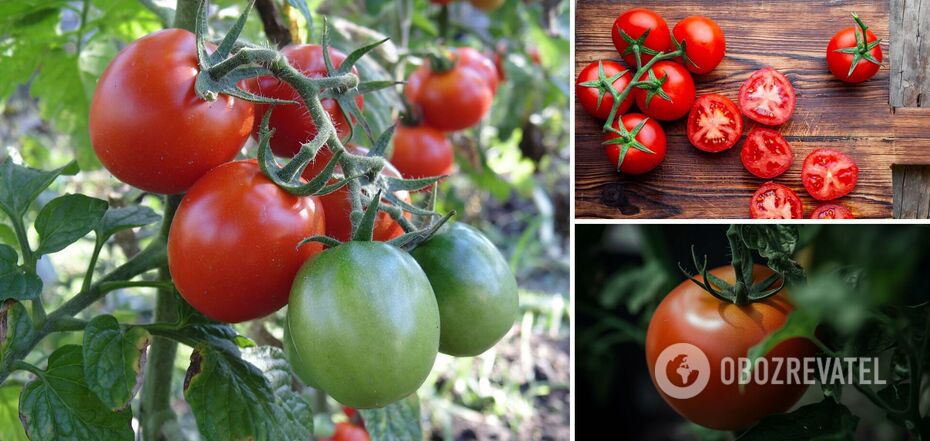 When to harvest tomatoes
The ripening period of tomatoes depends on many factors: temperature fluctuations, moisture level and the selected variety. Usually the first tomatoes are harvested as early as August. The fruits should be allowed to ripen on the bushes. Green tomatoes are plucked only as a last resort when the plant is sick or due to prolonged rains there is a threat of loss of the crop.
The main secret of long-term storage of tomatoes is to leave the stalk. Read more about how to determine the ripeness of vegetables, told the publication Express.
Tomatoes are best grown in a warm, sunny bed. It is important to protect the plants from drafts. Growers grow well in greenhouses and usually produce earlier harvests.
Daniel Carruthers, an expert from Cultivar Greenhouses, shared some tips on watering, harvesting and storing tomatoes.
"The ripening time of tomatoes will depend on the variety, weather conditions and size of the fruit. Cherry tomatoes tend to ripen faster than larger varieties," Daniel said.
You can tell if your tomatoes are ready for harvest by the peel. You can pick red or pale red tomatoes, depending on the variety. If a tomato comes off easily, it's ripe.
Tomatoes should be watered regularly, but excessive watering will result in waterlogging of the soil. The appearance of brown or black spots on the fruits indicates that the plants have become sick and rotten. And drought depletes the root system and is a major cause of yield loss.
During the hottest time, the soil in the bed may get as hot as +70 °C in the sun and up to +35 °C in the shade. Watering tomatoes with cold water from a hose is not recommended - a sharp temperature change can cause stress. The optimal watering option is drip irrigation. The plants will absorb the water that has already warmed up sufficiently.
It is important to remember that the irrigation system should not contact the plant directly - it should only irrigate the soil. Read how to make drip irrigation with your hands in this material.
In the past OBOZREVATEL wrote about how to feed tomatoes so that they taste sweet.
Subscribe to OBOZREVATEL channels on Telegram and Viber to keep up with the latest news.