Trending:
When best to pick elderflower: what to do with it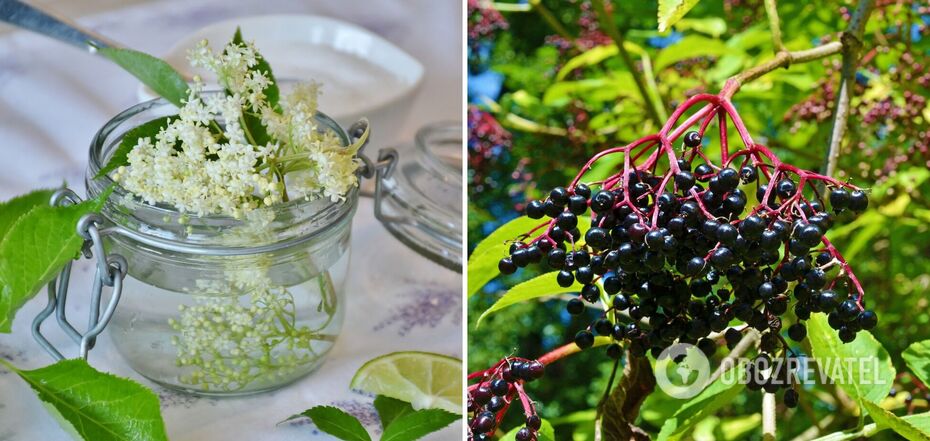 Elderberry flowers and berries can be used to prepare various dishes and drinks
Black elderberry is a shrub or small tree. It has beautiful white flowers and edible black berries, which are used in medicine, cooking and cosmetology.
The tree blooms from late May to July, so you need to know when to choose a good time to harvest. OBOZREVATEL gathered tips that will help in this regard.
The best place to pick berries is the edge of the forest. Avoid places by the road and fields, because the plant can get poisonous substances and a lot of dirt.
If the morning is dry and sunny, you will be able to smell the flowers, this is when they "open" their scent.
From the inflorescence and berries you can make many interesting dishes and drinks that are good for our health. However, with caution eat the fruit of the plant if you are allergic. It is also undesirable to consume elderberry to pregnant women, people with inflammation of the digestive organs and diabetes.
Flowers should not be washed after you picked them. This will take away their aroma. Just shake the inflorescence to get rid of pests and that will be enough.
To properly dry the flowers, store them in a warm place, they should not be exposed to the sun.
After two days, transfer them to a jar and close tightly. You can make a fragrant tea from the flowers.
Pour two teaspoons of the inflorescences in boiling water, cover and let infuse for 10 minutes, then strain the liquid and enjoy the fragrant tea.
Flowers are also added to dough to give a nice scent to baked goods.
Syrup made from flowers
To do this, add two kilograms of sugar to boiling water and wait until it dissolves. Next, add 30 elderflowers and two sliced lemons. Wait until the liquid boils, cover with the lid and leave the mixture for two days. Then strain the liquid through a sieve and pour into bottles. The syrup can be stored for one year.
Flowers in a batter
Beat two eggs and half a cup of sugar, add 100 ml of milk and three tablespoons of flour. Heat about half a liter of oil in a deep bowl, soak the flower umbrellas in the batter and fry until golden brown. Eat only the flowers, not the stems.
Elderberries are known for their antimicrobial action, remove all the toxins and detoxes from the intestines. From them you can make jam, kissel, morsel, compote and many other dishes.
The juice of berries contains vitamins A and C, mineral salts, iodine and a substance that accelerates wound healing.
Berry drink
You will need two tablespoons of dried berries, the same amount of sugar and four cups of water. Fill berries with water, bring to a boil. Then add sugar and stir. Turn off the stove and wait until the drink cools and it is ready for consumption.
Berry puree
500 grams of sugar grind with one kilogram of berries, bring the mixture to a boil and pour into jars. The puree should be stored in the refrigerator.
Previously, OBOZREVATEL told you how to grow kiwis in the garden to enjoy the homemade fruits in the fall.
Subscribe to OBOZREVATEL channels on Telegram and Viber to keep up with the latest news.