Trending:
When and which outdoor vases should be taken into the house and how to care for them in their new environment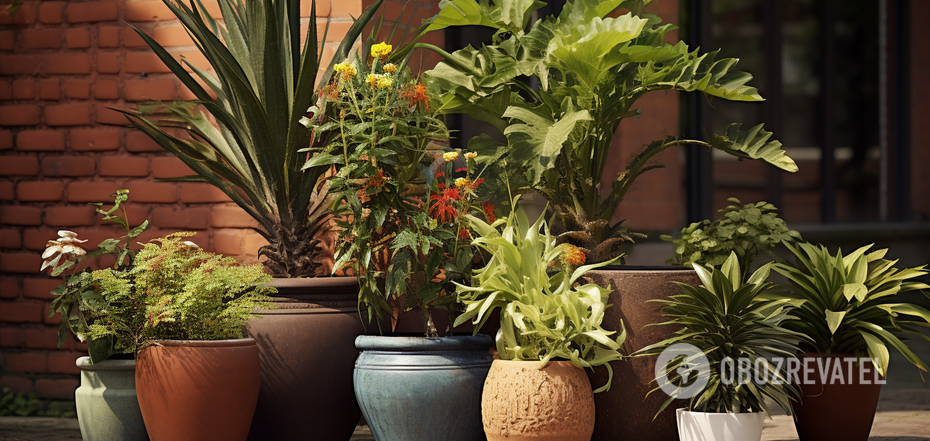 After the change of environment, plants will need a period of adaptation to new conditions
If you have an outdoor balcony, terrace or private yard and you are into growing indoor plants, you have probably brought them outdoors for the summer. Warm weather and natural light are great for them. But the gradual drop in temperature in the fall, especially at night, hints that it's time to bring them indoors.
However, you need to know what is the right time to do this and how to care for plants after such a move. OBOZREVATEL has collected the main tips.
When is the right time to bring plants into the house?
According to experts, the best time to bring plants inside is when night temperatures begin to drop below 12-15 degrees Celsius. Such conditions usually take place already by mid-September. In warm autumn, the temperature drops to such a number in late September or early October.
How do I prepare plants for transfer?
Before bringing the pots into your home garden, check the soil, stems, and leaves for signs of disease and insect pests. To get rid of the latter, soak the pots in warm water for about 15 minutes. Also, use appropriate products to treat plants that need them.
Just before you move the plants, give them a warm shower. This will wash away dust, debris, and hidden insects whether they are harmful or not. Those that have outgrown their pots during the summer outdoors should also be transplanted to a larger container.
How to care for plants once you have brought them indoors
Flowerpots that are used to lots of light outdoors can get too dark under a roof. Therefore, choose southern windows for them and avoid those facing north. Consider buying a phytolamp if you are forming a garden somewhere in the back of the house. Keep in mind that your outdoor plants may take some time to adjust to the new lighting conditions. If you notice signs that the plant continues to produce new leaves and shoots, it has adapted.
In addition, try not to water the plants as often as you used to. Moisture evaporates at a different rate indoors. Therefore, monitor the soil condition daily and add water as needed.
It is also important to ensure good drainage for the containers to avoid the risk of root rot or you will have to rescue the overwatered plant.
Other nuances to consider are air circulation and humidity. When the heating is running in the room, it dries the air, which can negatively affect the plants. Thus, spray them from time to time or put a humidifier in your winter garden.
In addition, be sure to reduce the use of fertilizers during the cold months. Until spring comes, the plants are dormant and do not need a lot of fertilization.
Earlier, OBOZREVATEL shared which plants will help to get rid of excessive humidity at home.
Subscribe to OBOZREVATEL on Telegram and Viber to stay up to date with the latest news