Trending:
When and how to plant onions for the winter: tips for gardeners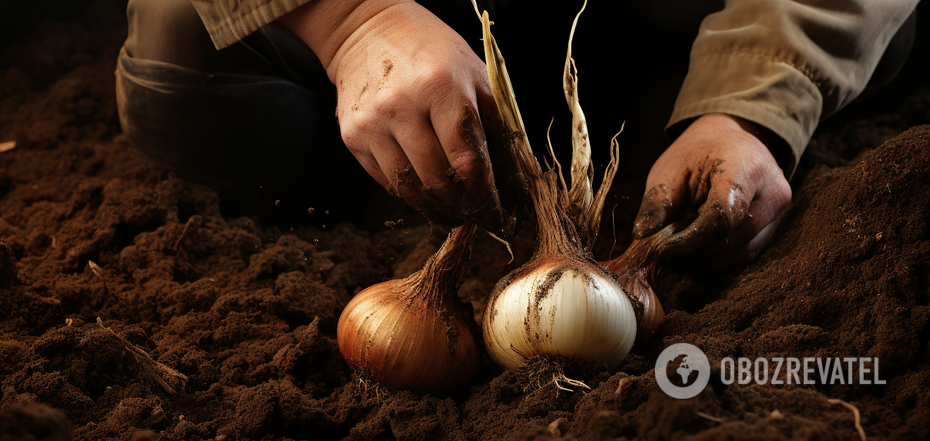 Rules for planting winter onions
Before planting winter onions, you should apply organic or mineral fertilizers to the soil in advance. It is important to select high-quality planting material, and on the day of gardening, sprinkle wood ash over the bed.
When frost comes, winter onions should be mulched with dry leaves, twigs, or pine needles. You can also cover the beds with plastic wrap or agrofibre. OBOZREVATEL has collected the most effective tips for planting onions for the winter.
Preparing for planting
Onions need to be sorted. Seed bulbs are divided into three categories:
small sets - up to 1 cm in diameter;
sets - 1-3 cm in diameter;
selections - more than 3 cm in diameter.
For growing turnip onions, small and regular sets are chosen, and the largest bulbs are used for greens.
Before planting onions for the winter, the necks do not need to be cut off.
Planting dates
Winter onions are planted depending on the weather conditions. If the temperature has dropped to +5 ºC and remains at this level for several days, it means that you can plant. This is usually between the end of October and the beginning of November.
Experienced gardeners advise to start planting winter onions 30-35 days before the onset of stable cold weather.
If you plant onions too early, they will germinate quickly and may freeze during frost. And if planted too late, the seedling will not have time to take root.
How to choose a bed
Well-drained sandy soils that have been fertilized with compost or humus are best.
Spread wood ash twice: before planting and in the spring, after removing the mulch. The calculation is simple: about 10 g of ash per 1 square meter.
It is also important to observe crop rotation. You should not plant onions in beds where potatoes, legumes, parsley or celery grew.
You can choose a bed where you grew
tomatoes
cucumbers
salad plants
cabbage
beets
rape
peas or beans;
all cereals (except oats);
corn.
Onions should be grown in one place for no more than two seasons, after which a four-year break should be taken.
How to plant winter onions
The seeds should be dry; they do not need to be soaked before winter planting.
Onions are planted in grooves 5 cm deep. The recommended distance between furrows is 15-20 cm, between bulbs - 5-7 cm.
There is no need to water winter onions. The only exception: if there is no precipitation for 10 days after planting, then the soil can be moistened.
Earlier, OBOZREVATEL told you how to store onions at home.
Subscribe to OBOZREVATEL 'sTelegram and Viber channels to keep up with the latest developments.