Trending:
When and how often to water vegetables in the garden: the main rules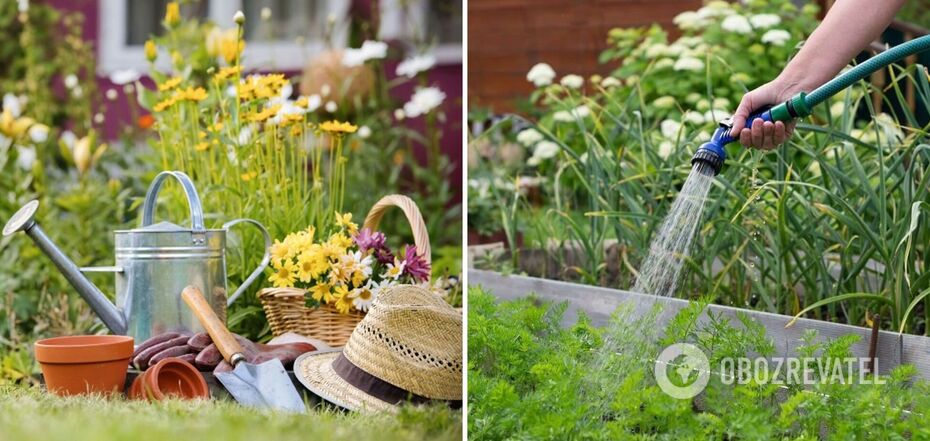 The main rules for watering
When choosing the optimal watering regime, many factors should be taken into account: from soil characteristics to the variety of garden crops planted. Excessive moisture can lead to waterlogging and provoke the development of fungal diseases. Drought, on the other hand, depletes the root system and is the main cause of crop loss.
There are no universal watering schedules and cannot be - it all depends on weather conditions, soil composition, plant species and age. However, the basic rules should still be followed. When and how often you need to water vegetables in the garden - read the OBOZREVATEL article.
Water temperature for irrigation
Usually, when watering, gardeners use a hose, attaching various sprinklers to it - thus, water sprinkles large areas. The water taken from a well, well or water supply system has a rather low temperature.
During the summer heat, the soil can warm up to +70 °C in the sun and up to +35 °C in the shade. Watering with too cold water can sometimes harm plants. This can cause:
slowing down the development of the plant;
rotting of the root system;
soreness, frailty; weakness.
That's why experts recommend using a drip irrigation method. Plants will absorb water that has already warmed up enough.
Do you need to water tomatoes?
Most often, gardeners avoid over-watering tomatoes. The leaves and stems of these plants have barely noticeable hairs, the main function of which is to store and accumulate moisture.
If you go out to the garden early in the morning, you will notice that the tomato leaves are damp. The water cycle is underway: at night, fog settles on the leaves, at dawn, dew appears, drops accumulate, flow down the leaves and stems and are absorbed into the soil. Therefore, under favourable and not too dry conditions, tomatoes may not need additional watering.
Rules for watering cucumbers
The leaves and stems of cucumbers also have hairs that can accumulate moisture, so morning watering will definitely not be necessary. Before flowering, you can water no more than twice a week, taking into account natural precipitation. During the period of active growth and fruit formation, you can water no more than once every five days.
When the ovaries appear, watering can be increased to three times a week. And at the end of the season, just before harvesting, one watering for 10 days is enough.
Earlier, OBOZREVATEL told whether it is possible to water the garden in the heat.
Subscribe to OBOZREVATEL's Telegram and Viber channels to keep up with the latest news.