Trending:
"What's with the spectacle, have they played with the SVO (Special military operation)?" Russians throw a tantrum over Prigozhin and Shoigu confrontation and tanks in Rostov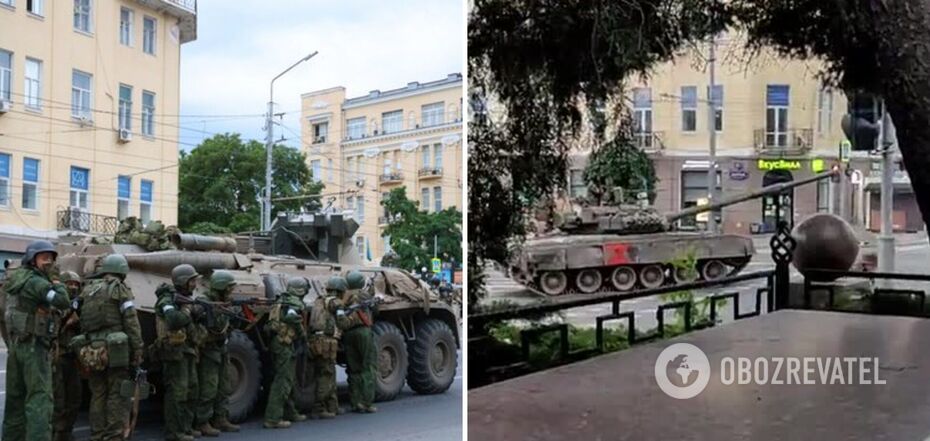 Armed men in Rostov
Russians are shocked by the flaring confrontation between the Wagner PMCs and the Russian Defence Ministry, as well as the columns of military equipment and armed men appearing on the streets of several Russian cities. Many are concerned that internal strife will prevent Russia from destroying and occupying Ukraine.
Also in the minds of Russians there are gloomy pictures of anarchy and "splitting Russia into small principalities". They write about this in thousands of comments in pro-guerrilla public forums.
Many Russians, watching the video from Rostov-on-Don, where crowds of armed men are walking around, large numbers of military vehicles are driving around and administrative buildings are being surrounded, are perplexed as to what is actually going on.
"What kind of a show? They should have put on a battle for the Makiivka spring", "What's going on?", "Idiots, what the f*ck is this show at this time of night? "You've been f*cking saying all night long that it's all a fake, it's all a fake?! "F*cking c*nts, that's what you're playing at," "Is this one of your own?" - Citizens of the aggressor state.
However, some of the commentators already have answers to the question of what's going on.
"Taking over the country," "Mercenaries seizing power," "It's someone in their own country," "What the hell, the same tomorrow in Moscow," they wrote.
Russians are also actively looking for those responsible for what is happening. The range of opinions includes Yevgeny Prigozhin, the owner of the Wagner PMC, Russia's top leadership, "grain deals" and even Ukrainians.
"They have played their game in grain deals, you c*nts!!!!", "What fools are they to fight inside the country because of as*holes", "Prigozhin is an as*hole, he has played the warlord game. The whole idea of PMCs failed because of his "ambitions", "If our leadership has enough balls to stop it all, no one will go anywhere. But the current one does not have them," "we can only thank our top military and political leadership for that. We had options a month ago, even a week ago," Russian citizens are hysterical.
They fear anarchy and the disintegration of Russia, but at the same time dream that internal confrontations "will not affect the southern front": the citizens of the aggressor country are like a monkey with its paw in a jug and grabbing a banana - it would rather die than release its prey.
"They will start breaking Russia into small principalities tomorrow", "Now there will be anarchy. First they will paralyze the system and then they will roll out their demands and then people will go to the squares and everyone will defend their interests, some for the government, others for the Communist Party and then you know what will happen. Stones, burned down shops, wounded, killed people, chaos, poverty, decay in development and the economy, surrender to the SWO and in the end the division of Russia's territory into small states. A [bleep] awesome prospect, isn't it?", "I hope this doesn't affect the southern front in any way," Russians write.
Propagandist Aleksandr Zhuchkovsky also trolled over the "military coup" in Russia.
"The liberation of Donbas has been somewhat delayed. Troops are not going to Sloviansk, but to Rostov. A very strange military operation," he wrote.
It should be recalled that the day before, Prigozhin declared "war" on Shoigu: since the morning in Rostov-on-Don, buildings have been seized, there have been reports of shootouts in Voronezh Region, and a large number of military equipment and armed men have been seen in a number of regions. Anti-terrorist measures have even been announced in Moscow, and in several regions people have been urged not to leave their homes.
According to Prigozhin, mercenaries control all military facilities in Rostov, in particular the airfield. He issued an ultimatum to Shoigu.
Only verified information in our Telegram channel Obozrevatel and in Viber. Don't be fooled by fakes!