Trending:
What you need to do in August to make raspberries big: lifehack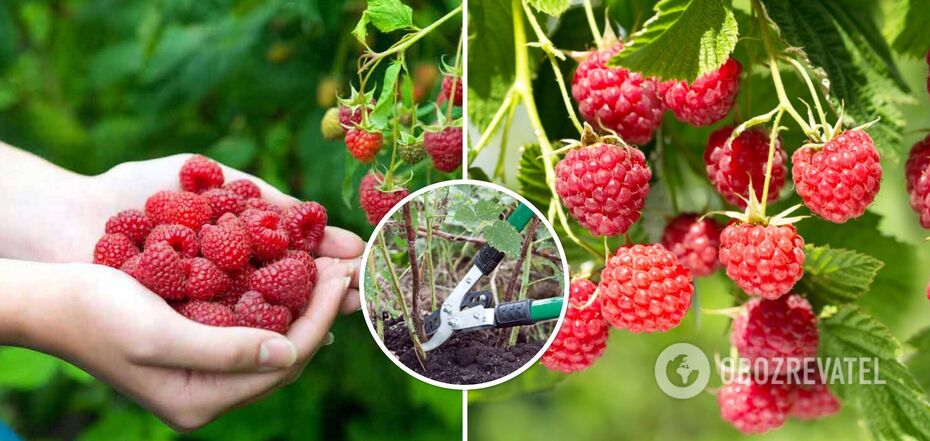 How to properly prune raspberry bushes
At the end of summer, raspberries require special care. August pruning is important for the qualitative formation of shoots. The basic rule is simple: young shoots will give a harvest for the next season, and two-year-old shoots should be cut after fruiting.
This rule applies to ordinary varieties of raspberries, repair raspberries are able to bear fruit on both one-year-old and two-year-old shoots. OBOZREVATEL has collected the best tips regarding August pruning.
Why you need to prune raspberries
Pruning in the last month of summer will bring a lot of benefits. With the help of it you can:
get rid of excess shoots;
improve next year's crop;
thin out and rejuvenate the bushes.
Pruning is also necessary to access air to young shoots. Dense rows are poorly ventilated - this greatly increases the risk of spreading diseases and pests. Annual shoots will quickly die without sunlight and nutrition.
How to distinguish old shoots from young ones
It is very easy to distinguish old shoots from annuals. On old shoots, the bark darkens and begins to peel. In addition, they have side twigs on them, which gave the harvest.
Cut two-year-old shoots should be cut immediately after harvesting, do not wait for late fall or the first frosts.
Rules for August pruning
Take clean scissors or secateurs. The top of the shoot should be cut off by 10-20 cm - it all depends on the height of the shoot itself. Tall ones can be shortened by 20 cm, and short ones by 10 cm.
Pruning should be done as soon as possible after the cessation of fruiting. Raspberries will begin to release new shoots, which should get stronger before the first frosts and cold weather.
It is best to carry out pruning already in early August - so the side shoots will sprout and get stronger by the end of summer.
By the way, sometimes even with proper pruning and feeding raspberries instead of sweet generous harvest grow tiny watery berries. The cause may be the wrong neighborhood. Why raspberries can not be planted near the cherry tree and how garden flowers can spoil the raspberry crop - read in the material.
Earlier OBOZREVATEL told about popular fertilizers, which can actually bring harm to plants.
Subscribe to OBOZREVATEL channels in Telegram, Viber and Threads to keep up to date.