Trending:
What you can not do during a lunar eclipse: tips on how to get out from under the influence of the corridor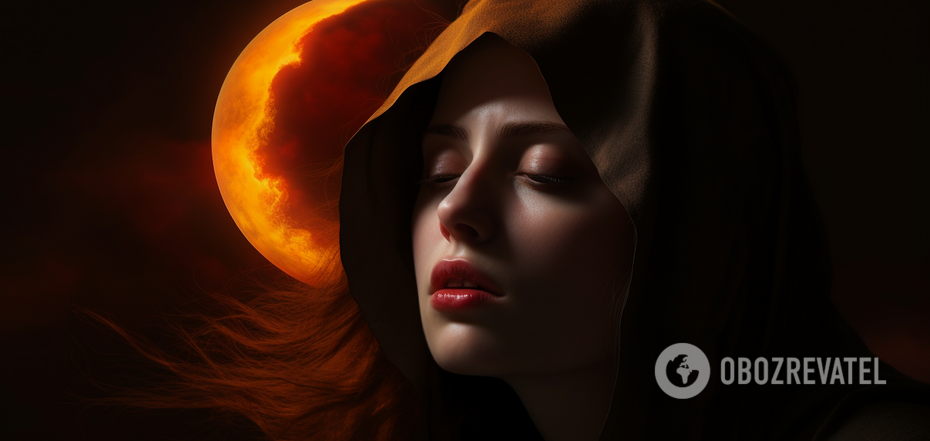 What you can not do during a lunar eclipse: tips on how to get out from under the influence of the corridor
The October eclipse corridor began with a solar eclipse on October 14 in the sign of Libra and will end on October 28 with a lunar eclipse under the auspices of Taurus. In astrology, the concept of a "corridor" means the period between two eclipses, one solar and one lunar.
This period of time is called karmic, because its influence on a person is very powerful. OBOZ.UA tells you what not to do during a lunar eclipse and how to get out from under the negative influence of the corridor
When the October lunar eclipse will take place
The lunar eclipse will take place during the flood on October 28. It will peak at 22:15 Kyiv time.
Will Ukrainians be able to see the eclipse?
It all depends on the weather conditions: in case of clear skies, the October eclipse will be visible from Europe, including Ukraine.
However, you shouldn't expect a spectacular view: at the peak moment, the Earth's shadow will cover only 12% of the Moon.
Impact of the lunar eclipse
Astrologers say that the eclipse will have the greatest impact on women and psychologically unbalanced people. The full moon makes people impulsive and excited. Therefore, it is worth controlling your emotions, being more tolerant, weighing all your actions, not provoking unnecessary quarrels, and simply channeling your energy towards goodness and joy.
The lunar eclipse intensifies the negative influence, so you should exercise restraint and balance during this period.
What not to do during an eclipse
People have long had many beliefs and superstitions about the eclipse period.
It was believed that it was better not to plan long trips or start new businesses during this time. In general, this is an unfavorable time for important purchases, large expenses, signing contracts, making commitments, and making fateful decisions. Therefore, you should refrain from investing, lending or borrowing money, and taking out loans.
Astrologers also advise against making changes to your appearance - you should postpone going to the beauty salon, cutting and dyeing your hair.
If possible, surgical operations should be postponed, except for urgent and emergency ones.
It is better not to break off relationships or start new ones during the eclipse.
Earlier, OBOZ.UA reported that the lunar eclipse will take place in Taurus, a material and rational zodiac sign, and therefore financial affairs may suffer the most.
Subscribe to OBOZ.UAchannels in Telegram and Viber to keep up with the latest events.