Trending:
What to fertilise your garden with in summer: Fertiliser for fruit trees and shrubs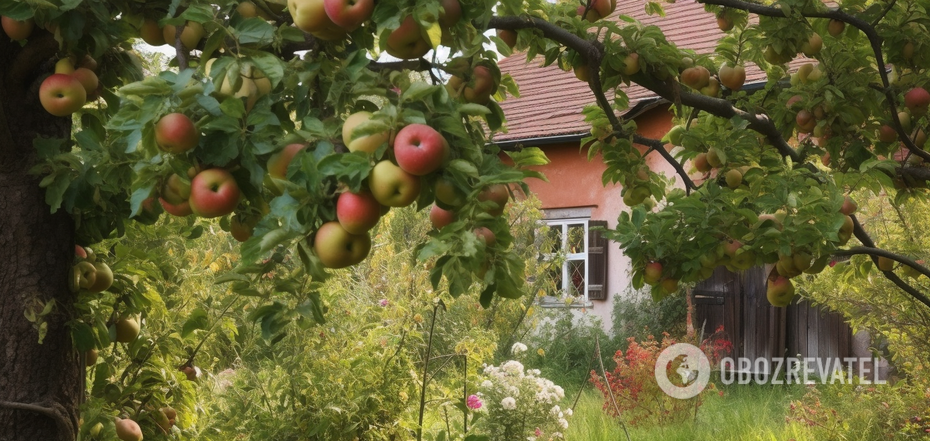 What to feed trees and shrubs in the garden
The basic rule for growing trees in the garden is to apply fertiliser at the right time. Young trees do not usually need to be fertilised since they received sufficient nutrients when they were planted. If the soil is too dry, you can apply potassium phosphate in July - this will promote the development of the fruit.
Superphosphate or potassium sulphate are the most commonly used. Read about the basic rules of fertilizing of fruit trees and bushes in summer in the article OBOZREVATEL.
Rules for tree fertilization
There are three basic rules for feeding, which are aimed at ensuring that nutrients reach the root system of trees as quickly as possible.
Fertiliser should be poured into holes or holes made along the perimeter of the tree's growth.
Fertiliser should be applied to the soil before watering.
Liquid fertiliser is best applied before mulching.
How to fertilise young and old trees
For young trees, gardeners recommend making holes at 7-12 cm, pouring fertiliser, covering with soil and watering generously.
To fertilise older trees, holes are drilled into the crown circumference. It is important to maintain a gap of around 40-70 cm between the holes. Fertiliser is then poured in and watered.
Niftrophoska, superphosphate or potassium sulphate can be used during flowering and fruit setting. Organic fertilisers, which are rich in useful trace elements, are best applied in liquid form.
Once flowering is complete, a 1% solution of copper sulphate is beneficial for the trees. When the fruit has already begun to ripen, growers recommend fertilising with a double dose of potassium superphosphate mixed with wood ash.
How to feed berry bushes
Useful trace elements are best absorbed into the root system if you loosen the soil beforehand. During the summer months, nitrophoska, kemira and other mineral fertilisers are suitable for berry bushes.
Under currants, raspberries and gooseberries, apply a bucket of manure or dung diluted with water. Be sure to water the bed generously so that the fertiliser can penetrate the roots.
If the bushes look sore and fragile on the outside, you can add a dose of micronutrients, i.e. an foliar application. A solution of boron, manganese, zinc and magnesium will be effective.
Previously OBOZREVATEL told why the garden is useful to plant mint and lemon balm.
Subscribe to the channels OBOZREVATEL in Telegram and Viber to keep up with the latest developments.