Trending:
What to do with raspberry bushes after harvest: berries will be twice as much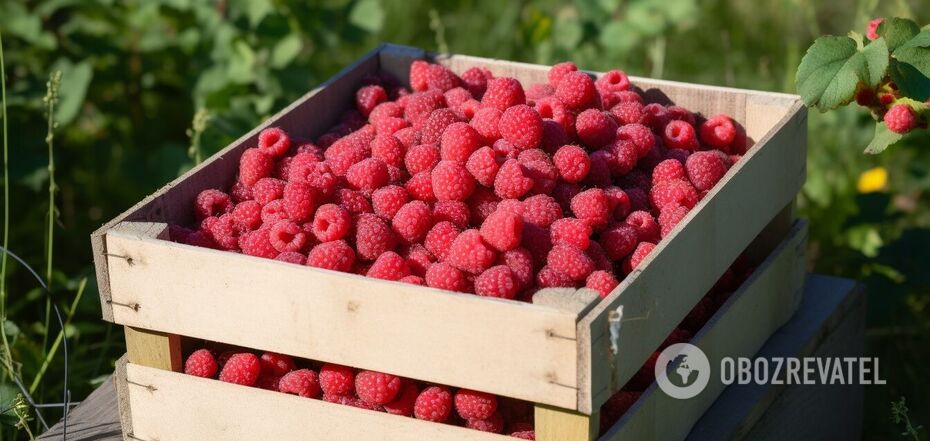 Raspberry bushes should be watered regularly
Raspberries are an unpretentious plant that can be grown in any climatic zone of our country. From delicious and useful berries, not only cook jam and make baked goods but also use them in medicines.
However, the plant must be properly cared for in order to collect a good harvest next year. OBOZREVATEL will help to understand how.
Raspberry bushes should be trimmed after collecting berries. First cut off the sick and damaged branches, and if there grew a lot of young pagons, it is also better to remove them. Leave 8-10 branches per root.
Then it is necessary to fertilize the plant. Every year, alternate organic and nitrogen additives. For organic fertilizers, manure (five kilograms per square meter), compost (four to five kilograms per square meter) or ashes (100 grams per bush) will be suitable.
Mineral fertilizers of 50 g of superphosphate and 40 g of potassium sulfate should be treated under each bush.
Do not forget to water the plant in time before the beginning of frost. Do not water under the root, do it 30-40 centimeters away from the bushes.
To avoid the appearance of fungal spores and bacteria that can harm the plant, it is necessary to treat the bush with a special agent. To do this, spray the plant with a 1% solution of Bordeaux liquid twice in August with an interval of 14 days.
Soil should be loosened and littered with cut grass or straw. This will enrich the soil with nutrients and improve the condition of the plant.
Earlier OBOZREVATEL shared how to properly store raspberries, so that they are fresh longer and do not rot.
Subscribe to OBOZREVATELchannels in Telegram, Viber and Threads to keep up with the latest events.