Trending:
What things you should never keep in your kitchen drawers: you may not have thought about it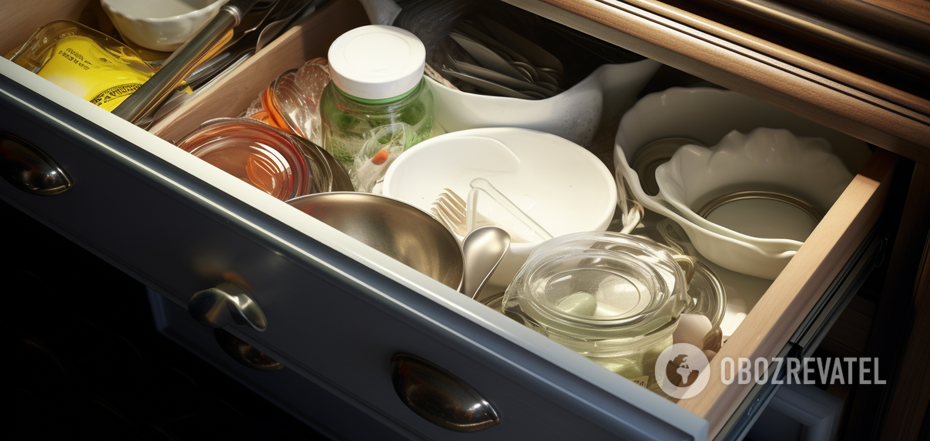 What you should never keep in your kitchen drawers
Everyone chooses the most convenient way to organize their kitchen drawers. The way you choose to fill them will affect the efficiency of your kitchen. Try to avoid the temptation to overstuff your kitchen drawers with all kinds of junk, and keep the items you use most often to a minimum.
However, experts say that certain items should never be kept in kitchen drawers. Homes and Gardens magazine explains why knives and heavy utensils should be put elsewhere.
Sharp knives
Sharp knives can be dangerous, especially if they are stored with other things and you are constantly rummaging through the drawer trying to find what you need.
Professional organizer Rachel Sicherman recommends getting a separate knife unit. It's great for storing all your sharp knives in one place and has compartments for all types. If you still want to keep your knives in a drawer instead of on the countertop, you can choose an internal bamboo organizer.
Heavy dishes
Kitchen drawers may seem like the perfect place to store all your heavy pots and pans. This is quite convenient when cooking as it is important to be able to grab the right item instantly.
Expert Don Falcone says that storing pots and pans can damage drawers. This means damaging the sliding mechanism and creating enormous pressure on the inside, which will cause the drawer to lose its structure.
Heavy cookware should be kept in lower cabinets or on kitchen shelves specially designed for their weight.
Discharged batteries
Do not store dead batteries in kitchen drawers, as the batteries may leak, causing damage to surfaces and other nearby items.
Store batteries in an airtight case or a designated area away from food and utensils.
Raw and perishable foods
Kitchen drawers are not suitable for storing raw or perishable foods because they lack proper ventilation.
Always store raw foods in an airtight container in the refrigerator. If you need to defrost meat, do so in the refrigerator, in a water bath, in the microwave, or simply on the table at room temperature.
Kitchen drawers are not designed to be airtight or temperature-controlled, making them unsuitable for storing dairy products, fish, meat, eggs, and other fresh foods. These foods should be stored in the refrigerator to prevent them from spoiling and growing harmful bacteria.
Medicines
Kitchen drawers are not the right place to store medications because of temperature and humidity fluctuations that can affect the effectiveness of the drugs.
Earlier, OBOZREVATEL shared how to quickly and effectively wash a non-stick frying pan.
Subscribe to OBOZREVATEL on Telegram and Viber to keep up with the latest news