Trending:
What things get cleaner in the sun: an unexpected tiphack for lazy housewives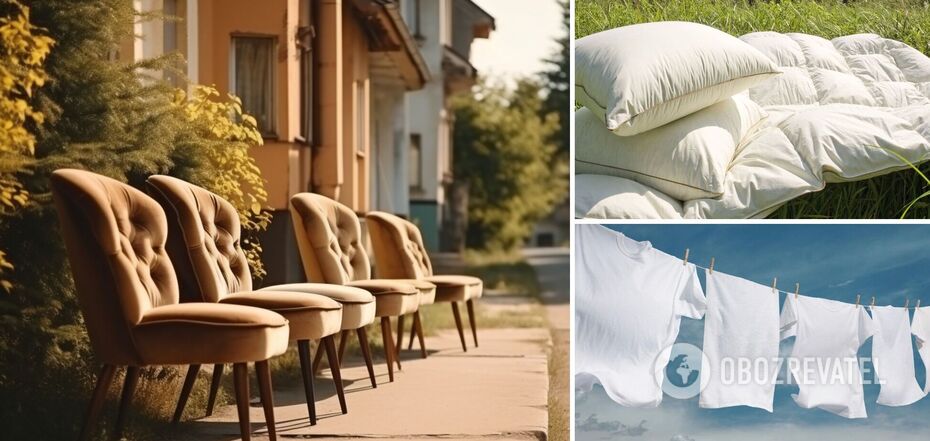 What things can be dried in the sun
When, after a long cold spell, the warmth of spring finally arrives, many housewives perform an annual ritual: take their cushions out to "dry" in the sun. This, by the way, is a great habit, because the sun's rays not only kill bacteria, but can also kill dust mites and eliminate unpleasant odors.
That's why cleaning experts confirm: some things really do get cleaner in the sun. It is only worth it to take them out into the fresh air for at least an hour and expose all sides to the rays. But do not be too fond of this little trick - brightly colored fabrics can burn out. What things will be cleaner in the sun - read in the article OBOZREVATEL.
Cushions and blankets
As noted above, many hostesses are used to taking pillows and blankets out to "air out" in the yard or on the balcony. This is an effective way to get rid of sweat odors, mold, or dust mites.
Pillows should be placed on some waterproof surface or hung from a clothesline - if the clothespins and rope are strong enough. Do not put pillows directly on the ground. Be sure to remove the pillowcases and wash them separately.
Containers made of plastic
A great kitchen tip is that plastic containers can also be ventilated in the sun. Spray them with lemon juice (this will get rid of unpleasant odors) and leave them in the sun for an hour.
Fabric shoes
Cloth shoes, especially white ones, are best for "drying" in the sun. The sun's rays will brighten yellowed sneakers or canvas shoes.
Suitcases and travel bags
Suitcases, no matter how often you use them, would also do well to "freshen up. You should not put only leather suitcases in the sun, it is recommended to clean them with special products.
Garbage cans
Garbage cans and buckets can become real nurseries of pathogenic bacteria and mold if they are not cleaned regularly. You can wash them under a high pressure of water and leave them to dry in the sun. Such drying deodorizes and disinfects surfaces.
Cutting boards
Sunlight, of course, cannot completely disinfect wooden cutting boards. But at least the sun will help them to dry completely, prevent deformation and bacterial growth.
Things with mold
Sunshine is a natural antifungal agent that will do an excellent job of fighting mold. You should first wash off the mold so the sunlight can remove the pathogenic spores. However, this tipster only works well with solid things. Fungal spores penetrate too deeply into fabric things, so it's best to dry-clean them.
Earlier OBOZREVATEL told you what means you can clean the carpet from stains at home.
Subscribe to channels OBOZREVATEL in Telegram and Viber to keep up with the latest news.