Trending:
What shoes absolutely must not be washed in the machine: important rules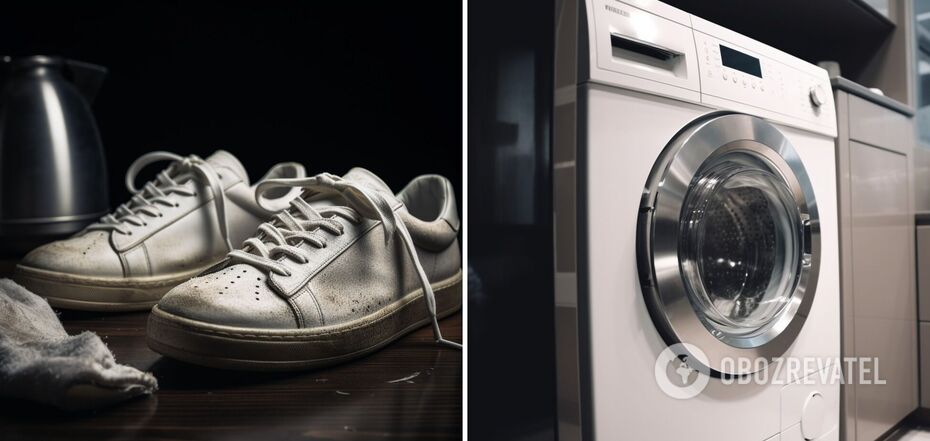 A very limited number of shoe types can be washed in the machine
The washing machine makes it very easy to care not only for clothes, but also for shoes. However, not every pair can be cleaned in this way.
OBOZREVATEL tells what types of shoes should not be sent to the drum in any case. And how to properly wash those that are subject to such care.
Materials that should not be washed in the machine
To determine for sure if your sneakers, shoes or ballet shoes can be machine washed, just pay attention to the material they are made of. Such care will definitely ruin a pair if they are made of the following.
Leather - although it is a strong and durable material, whether natural or eco-leather, prolonged contact with water and twisting can severely damage and deform it.
Suede or patent leather - these types of leather are even more sensitive to contact with water regardless of its temperature. And we are talking about both natural and artificial versions of the materials.
Metal - any metal decorations make shoes unsuitable for machine washing. In particular, due to the fact that it can damage the machine.
Models on a platform or heel - thin heels during the spin will break themselves and break the machine. Platform is too heavy for machine washing, it will upset the balance of the drum.
Decor - lavishly decorated shoes with rhinestones, appliques, embroidery, etc. always require special care, so it definitely should not be sent to the drum.
Unstitched shoes - if the seams in your model are not stitched, but only glued, under the influence of water, they can come apart.
How to wash shoes in the machine
Consequently, only pairs made of textile and not decorated with a lot of decorations are machine-washable. As a rule, these are summer sports shoes, which now dominate most people's closet. They tolerate such care well and are easy to rinse out.
Here are a few tips on how to properly wash such shoes in the machine.
Select a delicate mode with a low temperature and a gentle spin. At the same time add a small amount of detergent. It is best to give preference to liquid forms.
Shoelaces and removable insoles should be washed only by hand.
All stains and heavy dirt on the shoes must be removed beforehand. Machine washing will only complicate the situation.
It is better to wash your shoes in a special bag. It will not impair the quality of care, but it will protect the drum of the machine from damage.
You can wash no more than 2 pairs of adult shoes and 3 pairs of children's shoes at a time. Putting in one pair is normal and safe.
Dry washed shoes in the open air without direct sunlight. It is also forbidden to dry near heating appliances or open flames. To dry the pair faster, it is better to put inside a crumpled newspaper or paper towels and change them from time to time.
Previously OBOZREVATEL told how to get rid of the smell of sweat from shoes in the heat.
Subscribe to channels OBOZREVATEL in Telegram and Viber to keep up with the latest news.