Trending:
What not to wear to someone else's wedding: rules of etiquette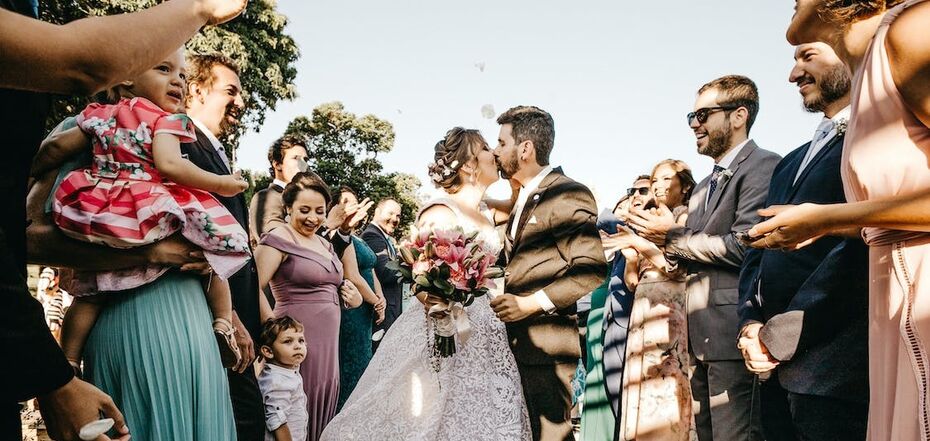 Rules of etiquette at the wedding. Source: Pexels.
A wedding is a grand and anticipated event for most people. All the attention and compliments should be devoted only to the bride and groom on this day, but some guests can spoil the mood with their outfits.
Follow the rules of etiquette to choose the right look for someone else's wedding. OBOZREVATEL will help you with this.
Girls often make mistakes when choosing clothes for such a celebration. Of course, you want to look beautiful, but don't forget that this holiday is primarily for brides.
White outfit
On the wedding day, white belongs only to the bride, so this rule should never be violated. You can wear such clothes only if the young people have announced a dress code that includes white.
Light shades of beige, pink, and gray may appear white in photos due to the flash. Therefore, it is better to avoid wearing such colors.
Dress code
Dress code at holidays is very common in the modern world. But there are guests who don't pay attention to it and wear what they see fit. But it's worth remembering that a wedding is a celebration only for the bride and groom, and you should support them and fulfill their request. Moreover, the dress code will make it easier for you to choose an outfit, because the colors and theme will be indicated.
Revealing clothes
Everyone has their own style and taste, but you shouldn't wear too revealing an outfit for such a holiday. Avoid plunging necklines, sheer fabrics, or short dresses or skirts. This can draw a lot of attention to you.
Uncomfortable shoes
When choosing shoes for a wedding, don't forget about comfort. After all, this is a celebration where you won't be able to sit all the time. It will be a shame if you miss dances and contests because your shoes are too tight or too high. It is better to bring a spare pair of shoes so that you can change them.
Earlier, OBOZREVATEL published the rules of alcohol etiquette that will help you drink alcohol properly.
Subscribe to OBOZREVATEL's Telegram and Viber channels to keep up with the latest developments.