Trending:
What not to feed cats: you'd be surprised at what you can't feed them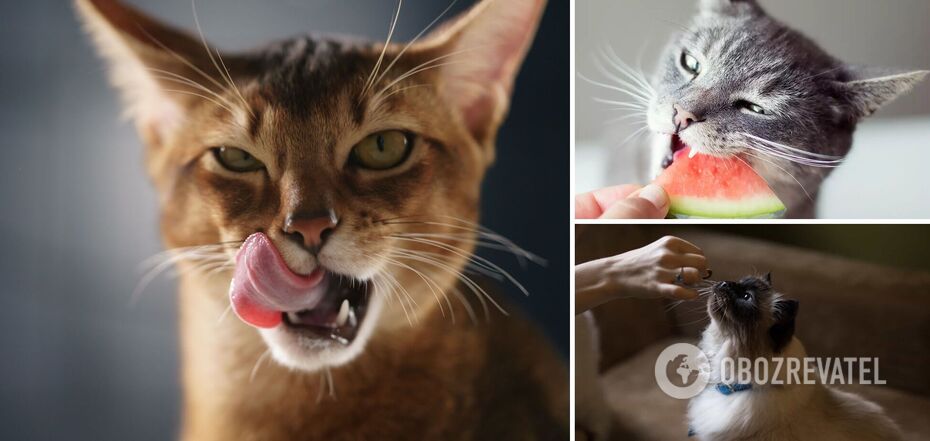 Human diet is disastrous for cats
We tend to give our pets human traits and desires, while forgetting that they are actually animals with their own habits and needs. And just because your kitty reaches for your dinner plate doesn't mean he's hungry and asking you to share it with him. The cat may simply be tantalized by the smell of food. At the same time, most of what people eat is not suitable for him. Food from your table can be very damaging to a purr-fect cat.
By their type of nutrition, cats are obligate predators. That is, they get all the nutrients they need from meat and in the wild they hardly eat any other food. Daiy Paws has compiled a list of 15 foods that should never be given to cats - they will have a toxic effect on them.
Alcohol
Drinks and foods containing alcohol, even in the smallest amounts, can cause serious problems in pets, including vomiting, diarrhea, and difficulty breathing. In the worst cases, alcohol can cause coma and death of the pet.
Yeast bread
Dough can cause gas to build up in your pet's digestive system. At best, your pet will suffer from bloating, at worst, he will get an intestinal blockage and may die. In addition, yeast produces alcohol, and the effects of alcohol are discussed in the previous paragraph.
Chocolate
Chocolate contains so-called methylxanthines (particularly theobromine and caffeine), which are toxic to pets. They can cause vomiting, diarrhea, tremors, seizures and death. The concentration of methylxanthines varies depending on the type of chocolate. Cocoa powder is the most dangerous and white chocolate is the least dangerous. But in any case, it is better not to give your cat such a dessert.
Coffee
As you can understand from the previous paragraph, caffeine is deadly for cats.
Citrus fruits
Fruits of this group contain citric acid and essential oils that are toxic to cats. Contact of the animal not only with citrus fruits, but also with other parts of the plants on which they grow should be avoided. In small quantities, they will only cause stomach upset. A large dose will lead to depression of the central nervous system.
Coconut pulp and coconut water
Cats may be interested in this product and may even eat a little of it without much consequence. But coconut water contains a dangerous concentration of potassium for pets.
Milk products
Many owners give their cats dairy and are pleased with the appetite with which they eat it. But most cats are lactose intolerant, so this diet is fraught with digestive distress. The safest approach is to avoid dairy altogether, but you can ask your veterinarian if a lactose-free alternative is acceptable.
Grapes and raisins
It is not yet known why these products are toxic to cats, but veterinarians are aware of cases where they have led to kidney failure. So it's best not to take any chances.
Nuts
It has been found that macadamia nut can have a toxic effect on purrs. But the mechanism is not yet fully understood. As for other nuts, they contain a lot of oils and fats that can cause digestive disorders and even pancreatitis in cats.
Raw eggs
Although eggs are a fairly typical food item in a feral cat's natural diet, they can be contaminated with salmonella bacteria. Signs of infection in a furbaby include vomiting, diarrhea, and fever. Raw eggs also contain avidin, an enzyme that prevents cats from absorbing biotin, a vitamin important for healthy skin and coat. If you do want to give your kitty a treat, give him a hard-boiled egg.
Raw or uncooked meat
Yes, it is a staple in a cat's natural diet. But by consuming it, the animal can become infected with salmonella, E. coli or parasites. Therefore, meat for the cat is better first boiled without salt or well frozen. And make sure that it does not contain fat - cats do not digest it well either.
Raw fish
The reason is the same - a cat can catch a bacterial infection or parasites from uncooked fish. In addition, it is an atypical food for purrs and they do not know how to digest it properly. Therefore, it is better to limit the use of fish.
Salt
In large quantities, salt and salty foods can cause vomiting, diarrhea, tremors, seizures and death. This is why, for example, meat products intended for human consumption (sausage, sausages, ham, etc.) should not be given to fluffy cats. If they often contain too much salt even for the human body, imagine what they would do to a cat.
Certain vegetables and herbs
People like to post videos on the internet of their cat crunching some vegetable with gusto. Well, it is possible to give certain vegetable products to cats, but not all of them. A special danger are different types of onions and garlic. They disrupt intestinal function and can damage red blood cells. Cabbage and legumes provoke bloating and can lead to intestinal congestion. Potatoes and corn are rich in starch, which cats do not digest. Avocados are simply poisonous for cats. In addition, foods that contain all of these vegetables as well as herbs should be avoided. Such products, for example, include garlic bread. But cucumbers, watermelons, strawberries, carrots or lettuce will be a safe snack for the furry one. Olives can also be given in small quantities, if they are not salty.
Xylitol
This artificial sweetener is found in some desserts, which cats sometimes show interest in. But it can cause vomiting, lethargy and liver failure in pets.
Previously, OBOZREVATEL told why, according to scientists, we love cats, and cats love us.
Subscribe to OBOZREVATEL channels in Telegram and Viber to keep up to date.