Trending:
What kind of mat should be in the bathroom: how to choose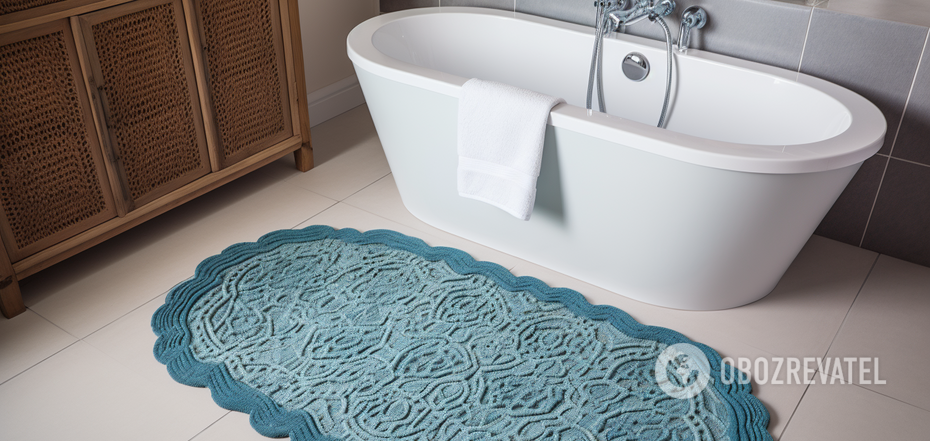 What is the best material for a bath mat
Abath mat can become a real nursery of bacteria if it is not cleaned regularly. Humidity creates the perfect environment for mold to grow, so the mat should be changed from time to time.
When choosing a mat, you should pay attention to its breathability and moisture resistance. Room to do.
Bathroom tiles last for decades, embodying style and practicality. It is not difficult to maintain: it is enough to periodically carry out wet cleaning. But there are also disadvantages - a slippery surface. In addition, stone and ceramics are cold materials, and to stand on them barefoot is not very pleasant. Therefore, mats serve not only to decorate the interior.
First of all, experts advise you to pay attention to the material from which the mat is made.
It can be:
cotton mat;
bamboo mat;
PVC mat;
acrylic mat.
Rubber is traditionally used as a mat base. Cotton mats have a soft pile and absorb moisture well.
Bamboo mats are hardy and will last longer than cotton mats. In addition, it has antibacterial properties.
Models that contain PVC foam are easy to clean and have absorbent properties.
Acrylic mats have good durability. They are thermoplastic and resistant to moisture.
It should be noted that there are five main characteristics that you should pay attention to when choosing a mat:
High moisture resistance - the mat should not accumulate too much moisture.
Good breathability - this is necessary so that mold and other fungal bacteria do not appear between the pile.
Endurance - the mat should be resistant to temperature fluctuations.
Ease of care.
Design features and compliance with the interior of the bathroom.
By the way, there are some simple ways to get rid of musty towels and mats in the bathroom. At what temperatures you should wash these things and why it is recommended to use vinegar - read in the material.
Earlier OBOZREVATEL told than to remove stains from the carpet at home.
Subscribe to the channels OBOZREVATEL in Telegram and Viber to be aware of the latest events.