Trending:
What is the Ericofon: a quirky invention from the '40s that will make you embarrassed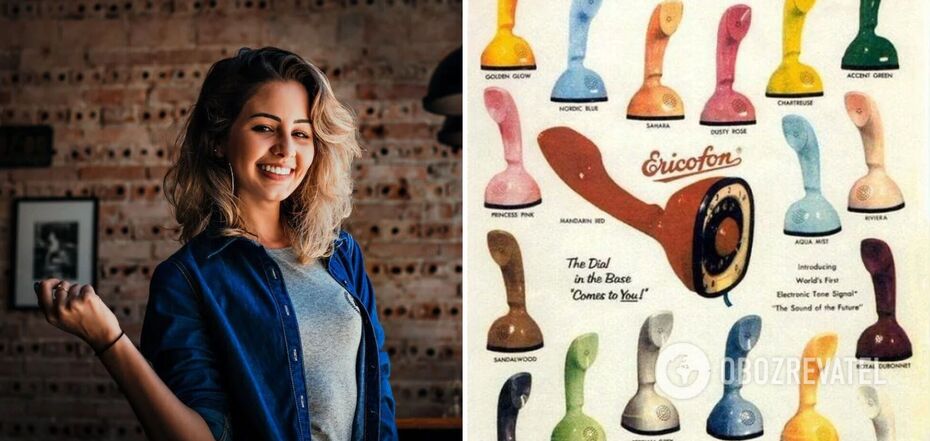 Ericofon landline phone
The Ericofon is a landline phone created by the Swedish company Ericsson in late 1940. The designers wanted the device to be small, lightweight and easy to use.
It was the first phone to combine a dialer and handset into one unit. There were two versions of the model, which came in 18 colors, except black (to see a photo, scroll to the end of the news).
The first version was slightly longer and its speaker was at an angle of almost 90 degrees to the base, the second version was shorter and had the speaker tilted slightly downward.
Series production began in 1954, but it was not possible to buy the unusual device until 1956. Buyers preferred red and white colors more.
At first, the company thought their biggest customers would be hospitals. Because it is hard for a patient to get out of bed to get to the phone, and such a model could be immediately near the patient.
Even a community of "ericomaniacs" appeared, whose members could exchange such phones among themselves.
Thanks to its unusual design, the Ericofon appeared in a large number of movies and TV series ("Twilight Zone", "Private Detective Magnum", "Great Balls of Fire", "Men in Black").
Thephones were discontinued in 1980. However, you can see it at the Museum of Telephone History, there the Ericofon is available in mint, orange, white and red colors.
Now, however, the unusual and innovative design of this phone is less of a delight than an embarrassment. Because of a certain promiscuity, online users see it as not quite what its creators intended.
Not surprisingly, there were discussions on the network, where people frankly admit that they see a sexual toy, not a means of communication and joke about it.
Some users wrote that the first desire was to block the advertisement, because at the first moment they saw not a landline phone, and men joke that they often find such a device in the drawer of their wives and now understand why they like this design so much.
"It should be pointed out that this phone vibrates when someone calls," "My mom has a few of these," "Oh, it's a phone and I thought it was something else," "Wow, what a number of colors, but unfortunately only one size!" users expressed their opinions.
Earlier OBOZREVATEL told why you can not charge the phone on the bed and to what critical consequences it can lead. Subscribe to OBOZREVATEL channels in Telegram, Viber and Threads to keep up to date with the latest events.