Trending:
What insects in the house predict wealth: omens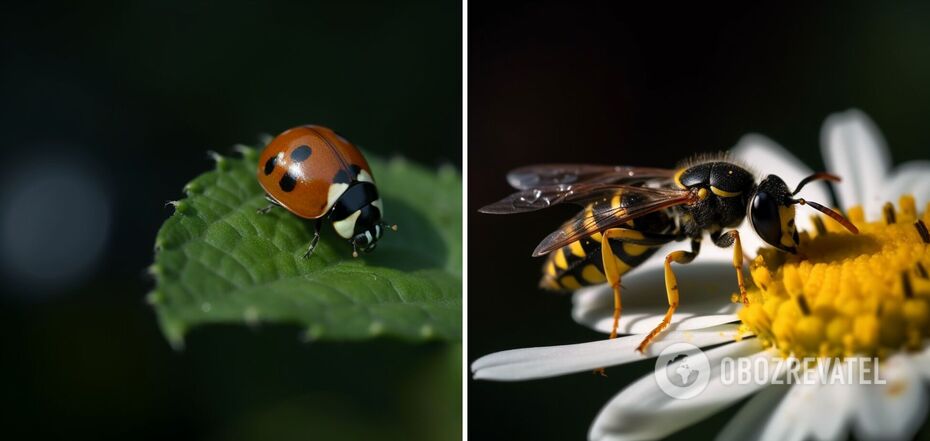 Ladybugs and wasps are popularly considered messengers of good and prosperity
Insects in the home are not always pleasant guests. They can cause disgust or fear. Seeing a large spider on the ceiling, many people rush to get rid of it as soon as possible. But our ancestors said that it is impossible to kill insects in the house.
According to beliefs, the appearance of a spider, wasp or ladybug in the house can be a certain warning. Read more about folk omens associated with insects - read in the material OBOZREVATEL.
If a wasp flew into the room
Wasp in the room - a good sign. Superstitious people believe that wasps are a symbol of wealth, good and prosperity. Our ancestors said that wasps feel good people and will never fly into a house with bad energy.
Ant in the house
Of course, if your kitchen is infested with an ant infestation - you should get rid of them using professional methods. But seeing one ant in a room is a very good omen. It has long been said that ants protect against the "evil eye" and attract prosperity to the house.
Ladybug
A cute bug flying in through an open window is also a good sign. The ladybug is considered a symbol of prosperity and peace. According to beliefs, it will not fly into a house where evil people live. If you see this insect in the apartment - new beginnings will be successful, and everything planned will come true. If the ladybug slowly crawls over the threshold - soon there will be joyful news or a pleasant event.
A beetle with a shell of green or emerald color
If a beetle with a shell of green or emerald color flew into the house - do not be frightened. It has also long been considered a good messenger. This means that the family will soon receive important news.
Colorado potato beetle in the house
But the Colorado beetle in the room is not such a good omen. It portends problems with finances. You should not spend too much money or lend it.
If there is a moth
Moth - an unpleasant insect. Our ancestors also disliked it. They said that moths bring poverty and financial losses.
Spiders
Spiders, in general, also do not carry a negative meaning for superstitious people. In the people there are the following omens:
to see a spider on the clothes - to profit
to notice how on a spider web descends a small spider - to joyful news.
Butterfly flew into the room
Butterflies in the people associated with the otherworld. It was said that you can not kill a butterfly, otherwise trouble will come to the house. It should be carefully caught and released.
Also OBOZREVATEL told why you can not wipe the table with your hand.
Subscribe to the channels OBOZREVATEL in Telegram and Viber to be aware of the latest events.