Trending:
What flowers should not be planted near lilies: the worst neighbours that spoil flowering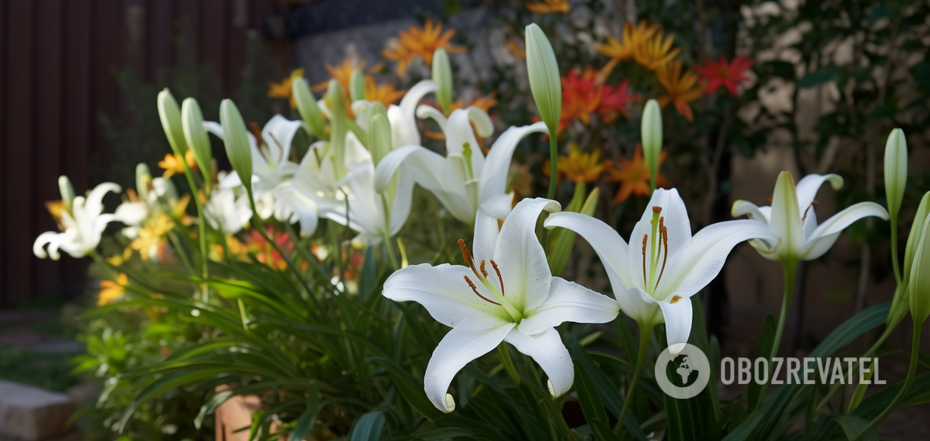 Rules for growing lilies
Beautiful and fragrant lilies will become a real decoration of the garden. These are quite demanding flowers, they need careful care, regular fertilisation and optimal watering.
It is also important to follow the rules of the neighbourhood. OBOZREVATEL figured out what flowers should not be planted near lilies.
Tulips
Lilies should not be planted in the same flowerbed as tulips. These flowers are susceptible to the same diseases. In addition, you should take into account the nuances of crop rotation: do not plant lilies in the garden where tulips grew
Irises
Lilies and irises have similar inflorescences, so they will be bad neighbours. Irises need less water after flowering, while lilies, on the other hand, require frequent watering.
Daffodils
Daffodils, like lilies, are bulbous plants, but they should not be planted in the same bed. The flowers will compete for nutrients.
Gladioli
Gladioli and lilies will interfere with each other. Gladioli can even take over the beds and displace lilies.
Roses
The worst "neighbour" for a lily is a rose. Lilies need aeration - the exchange of soil air with atmospheric air, and roses have roots that go deep into the ground. These flowers also need different fertilisers: roses need manure, which is categorically not suitable for lilies.
By the way, flower beds should be weeded regularly. Weeds are not only an aesthetic problem. They impair the process of air access, accumulating excess water, taking away nutrients and promoting the active reproduction of pests. Read about the proper care of roses in the article.
Earlier, OBOZREVATEL told which plants should not be pruned in summer.
Subscribe to OBOZREVATEL's Telegram, Viber and Threads channels to keep up with the latest developments.