Trending:
What flowers grow best in a humid environment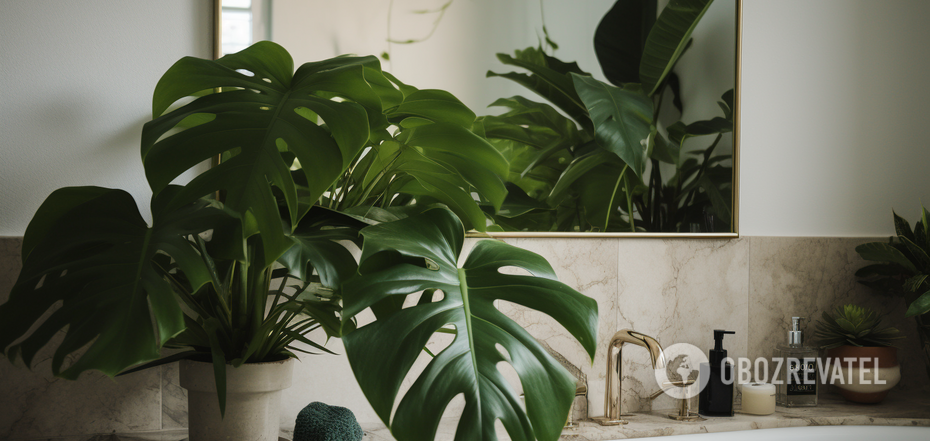 These plants will absorb even large amounts of water vapor
Not every indoor plant is suitable for every room. They all differ in their requirements for conditions such as light, temperature and, of course, soil and air humidity. Thus, before you buy yourself a living decoration of the interior, make sure that you can provide it with everything they need.
OBOZREVATEL collected five good options for rooms with high humidity. All of them come from tropical latitudes, so they like when there is a lot of water vapor in the air.
Spathiphyllum
This flower originates from the rainforests of South America. Its leaves have quite a number of stomata, openings through which it carries out gas exchange. They also take part in photosynthesis and help the plant absorb moisture from the air.
To ensure comfortable conditions for Spathiphyllum, plant it in a pot with drained soil and put it in a well-lit place without direct sunlight. Regularly wipe the leaves of the plant to free the eyelids from dust. Do not worry about frequent watering, as a significant amount of the necessary liquid it will get from the air, thus naturally drying it out. Therefore, water the flower only when the top layer of soil in the pot is well dried out.
Nephrolepis exaltata or Boston fern
The lush sultan of leaves of this plant looks good both in pots and in hanging cachepots. In nature, Nephrolepis lives on other plants, so it absorbs a lot of resources for its existence not from the ground, but from the air. It will be very comfortable in a room where the humidity varies between 50-80%.
Nephrolepis likes indirect, but bright sunlight and constant moist substrate. It will also definitely like regular spraying.
Aglaonema
The leathery leaves of this native of the Chinese tropics are a beautiful green color with silver and red spots and veins. The aglaonema looks beautiful as a decorative plant and also cleans the air in the house. In particular, it absorbs excess moisture from the air.
The plant can grow well in areas with low natural light and does not require a strict watering schedule. Just allow the soil in the pot to dry out by 2-3 centimeters. The only thing that aglaonema will definitely not like is cold drafts. Therefore, do not keep it near the air conditioner and make sure it does not freeze in winter.
Philodendron
The curly subspecies of philodendron will suit even those with no indoor plant growing skills at all. In nature, they wrap their stems around trees to climb into the air and absorb as much moisture and nutrition as possible through aerial spines. With these same spines, they will also drain excess water vapor indoors.
Philodendrons are very unpretentious to the conditions of maintenance. The only strict condition is not to put them in direct sunlight. It can burn the leaves of the plant. It is not too sensitive to other factors and will grow well in conditions of different lighting, temperature and even irregular watering.
Orchids
This stunningly beautiful flower will still require some care. However, it will thank you with gorgeous blooms. Orchids do best in an environment with air filled with water vapor.
Place them where there is plenty of indirect sunlight, as if they were growing under the crown of a large tropical tree. Be sure to read about the proper watering of the plant, as it needs a somewhat specific, though not too complicated approach.
Earlier OBOZREVATEL shared a list of indoor plants that absorb excessive heat.
Subscribe to OBOZREVATEL channels in Telegram, Viber and Threads to keep up to date.