Trending:
What colours will make the interior look fresher and richer: renovation tips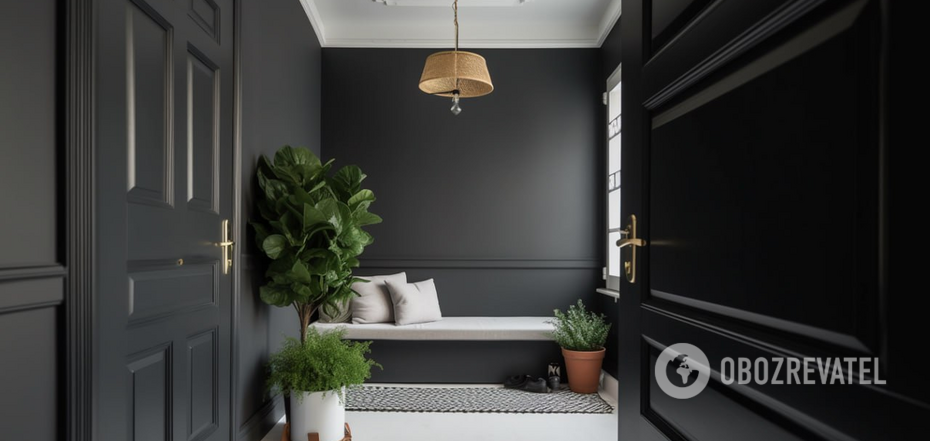 A simple colour change can make an interior look truly luxurious.
Experienced interior designers know that sometimes it is not necessary to make a full-scale renovation to completely change the character and mood of an interior and even make it more luxurious visually. Often, this task can be accomplished with the help of small cosmetic changes. For example, colour nuances.
Best Life magazine asked experts what shades can help transform a home. And they gave some simple tips, the implementation of which does not require much time, money and effort, but will give the maximum effect.
Paint the front door black
Black is one of the basic colours that are suitable for most styles and options for decorating a space. This also applies to the entrance group. Black will work well both outside and inside the room if you paint the door to the house with it. Moreover, you can decorate them in this way even on one side - where a dark colour would be more appropriate. For example, the black side in the entrance or on the porch will set a sense of style even before the guest enters your home.
Choose gold accents
We associate gold colours with wealth and luxury. But you don't need to turn your entire home into a dragon's cave to create the impression of an expensive interior. It's enough to choose golden accents - picture frames, lamps, candlesticks, decorative dishes, etc. Gold sockets and switches can be a very interesting option. At the very least, they will look very bold and extraordinary compared to standard white ones.
Take care of the greenery
Whatever your interior, whatever colours you choose, it's easy to incorporate soothing greenery into it - just have a few houseplants. They always make a room feel cosy and look luxurious at the same time. Provided, of course, that you take adequate care of them. It doesn't have to be something flowering that you have to work hard to grow. Choose something that grows even with minimal care. Sansevierias or zamioculcas will survive even with very negligent owners and look great. You can also regularly decorate your apartment with bouquets. As a last resort, you can buy high-quality artificial flowerpots. Plants will suit absolutely any style.
Keep large furniture neutral
A brightly coloured sofa, wardrobe or kitchen set certainly attracts the eye, but at the same time visually reduces the space and often looks too flashy, which reduces the entire interior to a class. That's why experienced designers recommend keeping large objects neutral - grey, white, beige, etc. Neutral colours in large volumes create a sense of simplicity and elegance and are combined with a wide range of shades of decor. In addition, sofa cushions or crockery are easier, faster and cheaper to replace when you want something new and bright.
But be bold with the walls
When it comes to the walls of the house, neutral colours are still the best solution. But here you can use a wider palette and play with shades. For example, charcoal grey, navy blue or soft grey-brown will not look as banal as pure white or soft beige, but at the same time, they will not become an expressive accent. Complex shades of the base colour create a sophisticated and luxurious background against which other interior nuances look good. In addition, darker neutral tones add depth and atmosphere to the space.
Ditch the red brick
Red brick elements are a favourite decorative technique when it comes to decorating a loft-style home, creating an accent wall or decorating a fireplace. However, this approach to decoration is used so often that it has become a cliché and a sign of lack of taste. There is no need to abandon the "brick" elements in the interior, just pay attention to other shades of the material. There are light grey, white, beige and yellow, black options. There is plenty to choose from. Such an update will look much more interesting and "expensive".
Earlier, OBOZREVATEL talked about simple rules that will help you quickly refresh any interior.
Subscribe to OBOZREVATEL's Telegram, Viber and Threads channels to keep up with the latest developments.