Trending:
What cats are more afraid of: three things that cause stress in animals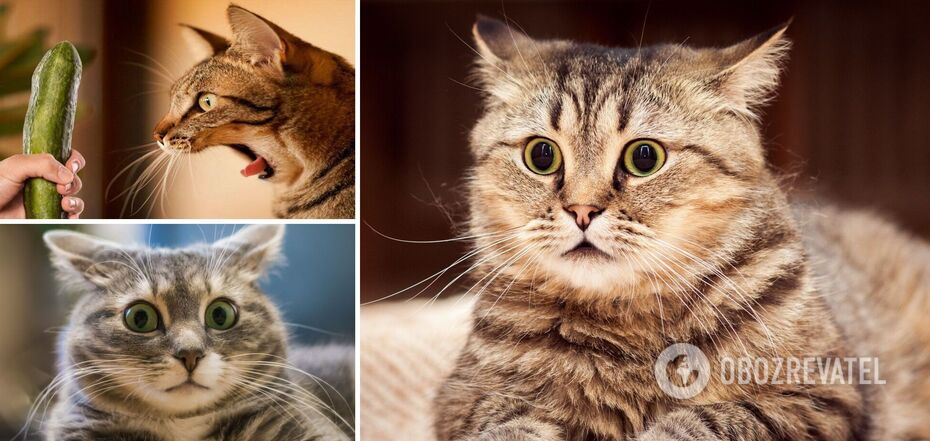 Cats are afraid of cucumbers, vacuum cleaners, and mirrors
Few people know that some things cause stress and panic in cats. Cats are capable of experiencing intense fear, and a sudden scare can affect a pet's physical and mental health.
Cats are usually afraid of dogs, loud noises, and strangers in the house. What else can strongly frighten cats, was analyzed by OBOZREVATEL.
The greatest fear, according to recent studies, causes cats vacuum cleaner. Loud equipment makes animals feel distrust and stress. The most daring favorites can even put up fights with the vacuum cleaner, but usually, having heard the characteristic sound of the turned on technique, cats hide in safe places.
Interestingly, other rather large and loud objects or appliances do not scare cats too much. Quite a small percentage of cats are afraid of a car, a food processor or a coffee grinder.
You've probably seen the videos popular on social networks where cats get scared of cucumbers. It's really true - cats experience intense fear when they suddenly see cucumbers.
Veterinarians explain this by the fact that the shape of the cucumber reminds the cat of snakes - and with snakes they have an uneasy relationship.
For the first time at the sight of a mirror, a cat can become very frightened. The mirror takes the third place in the rating of cat fears. The cat simply does not recognize himself in the reflection, so he believes that before him is another, alien animal. Over time, the cat will realize that there is nothing to be afraid of, and may even begin to play with the mirror. A huge role is played by the sense of smell - without hearing the smell of a stranger, your pet will stop being afraid.
Previously, OBOZREVATEL told how to quickly and easily determine the age of the cat. For the first year, equal to human seven years, a young kitty can already become a mom for the first time. That is, there are serious differences in the system 1:7.
Subscribe to OBOZREVATEL channels in Telegram and Viber to keep up to date.