Trending:
What about "Crimea is ours?" Russian tourists complained about rudeness and cosmic prices on the peninsula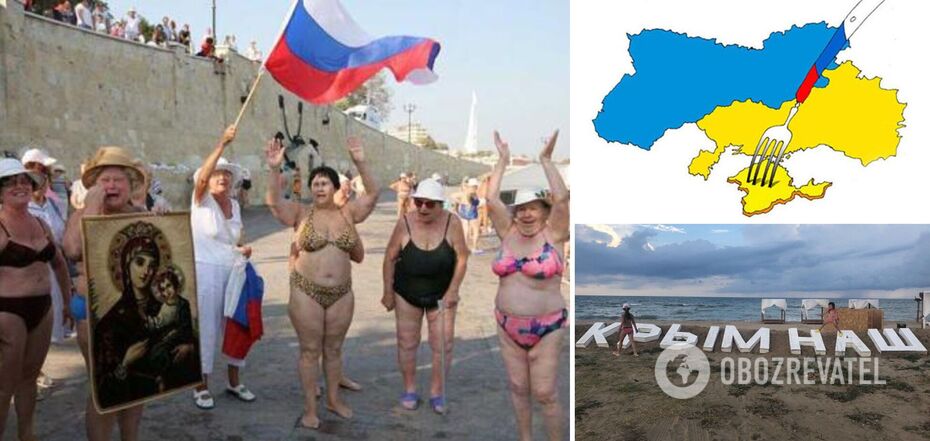 Russians have rested in Crimea and realized that they are being ''divorced''. Source: Collage
Russians, who recently rejoiced at the annexation of Crimea, seem to be getting disillusioned. People are complaining en masse about the high prices, boorish attitude, quality of mobile communications and attempts to scam them out of money, which they encountered while vacationing on the Ukrainian peninsula in the summer of 2023.
The stories of Russian tourists were published by the propaganda resource "Komsomolskaya Pravda". "Expectations were not justified," - sadly stated supporters of the dictatorial regime of Vladimir Putin. Propagandists visited the Simferopol railway station to hear first-hand impressions.
"Rudeness is literally everywhere, starting from your train station and ending with cab drivers. By the way, these ones are constantly trying to cheat and get more than they need," one man complained.
Another vacationer added that she will most likely not return to vacation in Crimea again. She was shocked by the high prices. Even the same Turkey, according to the woman, will cost much cheaper.
"It was said that hoteliers in the Crimea reduced the cost by 30%. But perhaps this is only on paper, because in fact it is more expensive to have a vacation than in Turkey. Would be a normal opportunity now to rest in other places, gladly, because in the Crimea is expensive ..." - explained the Russian woman.
As reported OBOZREVATEL, earlier a hotel in Turkey fined Russian tourists 200 euros for indecent behavior.