Usyk made the British cry: Ukrainian is considered a superhero and a beast after interview with England legend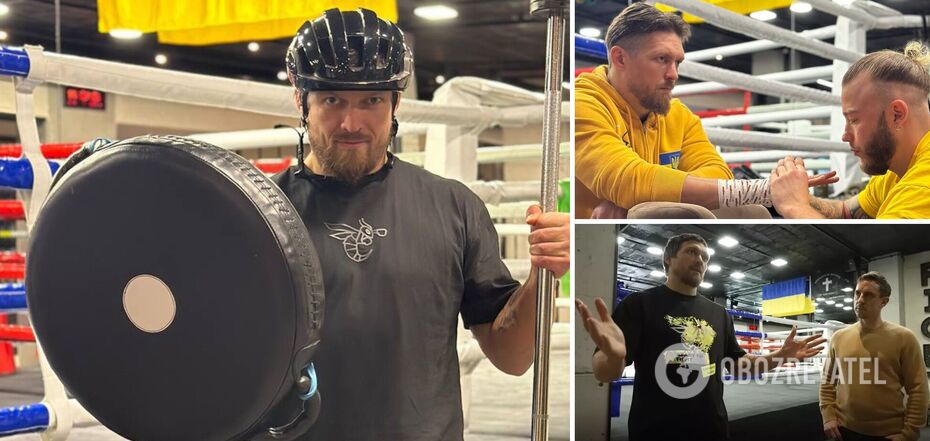 Oleksandr Usyk wins the hearts of people around the world
The subscribers of the former England defender Gary Neville's channel are delighted with the episode about WBA, WBO, IBF and IBO champion Oleksandr Usyk. The Manchester United legend visited our heavyweight's training camp and recorded an emotional interview with him. Some subscribers, including most of the British, called the episode with the boxer the best in the history of Neville's "The Overlap" project.
In a conversation with Gary Usyk, he recalled how he returned to Ukraine after the start of the full-scale invasion, sheltered dozens of family and friends in his home for a month, and took up arms and went to fight. Oleksandr spoke about the horrors of war and the courage of the Ukrainian Armed Forces. He emphasised that he was fighting not for fees, but for his country, for the opportunity to talk about its tragedy with the world.
Neville and Usyk also discussed the upcoming fight with WBC belt holder Tyson Fury, and Oleksandr explained that it was not his side that was delaying the signing of contracts and stressed that he was not afraid of the British fighter, no matter how big he was. This sincerity of the Ukrainian champion resonated with those who watched the episode and left their comments.
"Usyk is a breath of fresh air and a great personality. What he has achieved at cruiserweight and in four fights in heavyweight is legendary stuff. If he beats Fury and become undisputed, then we're talking a different stratosphere," wrote one viewer.
"Fantastic overlap! I have nothing but huge respect to Usyk - a wonderful human being, and a superb fighter. May peace come to Ukraine," said another subscriber.
"This guy is proper salt of the earth... He is a role model to everyone, wherever you've from, I wish him all the best," said a sports fan with the nickname luap89.
Jackwood3812 noted that this was the best interview in this format he had ever seen: "Huge respect for Usyk, a very brave and humble man. Thoughts and prayers to him and his beautiful country."
"An amazing story about an amazing person who has done and will continue to do amazing things while saying, 'I'm just normal. You have to love Oleksandr Usyk," another viewer said.
A user with the nickname hassnatahmad5339 also confidently stated that Usyk was "definitely better than Holyfield," with whom the Ukrainian was often compared. After all, the titled American was also a world heavyweight champion at first, and then successfully won belts in the Royal division.
"What a guy. I'm a Fury fan, but I wouldn't be too upset if Usyk won. Just love what he's done in the game of boxing and he just comes across as such a humble, genuine man. God bless Usyk," said the Tyson fan.
It turned out that the Ukrainian champion already has a lot of fans in the UK who will be rooting for him in his fight with Fury: "I am British and I want this man to be undisputed heavyweight champion of the world."
In addition to the stories about the war, the British were very moved by the story of Usyk's father, who always supported his son and died shortly after the 2012 London Olympics, where his son became a champion. Oleksandr never had a chance to show him the coveted gold medal and admitted that he missed his father, even though he was brought up in strict Soviet traditions and never said how much he loved him. But the boxer knew it.
"Had me in tears hearing about his dad. Was the same for me, really relate and I miss my pops too, made me think of my last call with him before he passed. Great Overlap and Usyk is more than a champion, he's a superhero," one of the channel's British subscribers left a comment.
"He is an absolute hero and idol, I can't even imagine how proud his father is looking down on him from heaven. What an absolutely fantastic example of an angel on earth! My heart is melting," another sports fan is delighted with Usyk.
"Really enjoyed that. Usyk seems like a great guy, and I had a tear in the eye when he was talking about how much he loved his sons and told them each day to compensate for his own dad not telling him so. As someone with a similar relationship with my father, I can sympathise with it a lot. Amazing what he is doing for Ukraine as well. He is a legend," says pingo432.
Also, Usyk's foreign fans are pleased that he gave part of the interview in English, showing that he is constantly developing: "This is a really great interview, and it was great to hear Usyk's answers in English. Here we see the whole spectrum of his broad personality - not only a top-level boxer, but also a humane and compassionate person who does not act through ego but submits to divine guidance."
"It's not often that I would support a foreign sportsman over on English one, but Usyk is a special man and I can't help but want him to unify the belts. A true humble champion both inside and outside of the ring. It's also great to see him speaking more English than ever," said magfrags2020.
Neville's followers, as well as other sports fans in general, were not stingy with their compliments to Usyk, calling him special, phenomenal, a legend, a warrior, a beast in the ring, but also "genuine and humble" and a "great example of strength of spirit".
Earlier, OBOZREVATEL reported that Fury refused Usyk's lucrative offer.
Only verified information is available on our Telegram channel and Viber. Don't fall for fakes!