Trending:
Unity Day: how Ukrainians celebrate the holiday that emerged from the war with Russia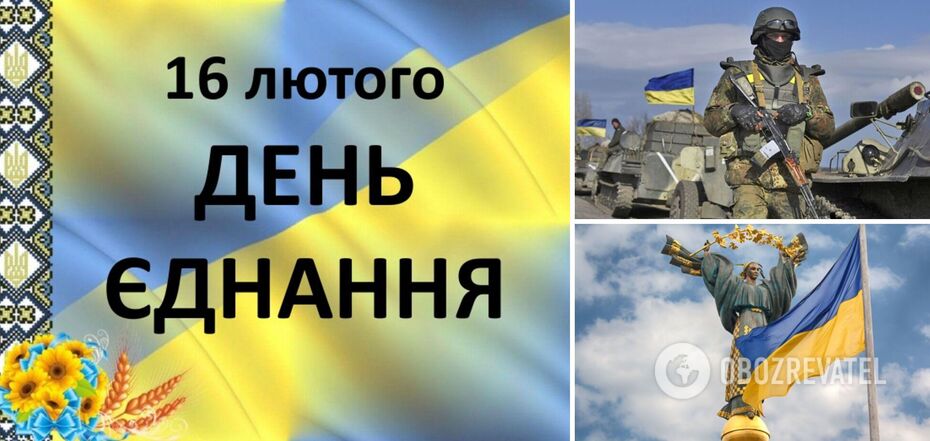 Unity Day on February 16
Russia's full-scale invasion of Ukraine has been going on for almost a year. On February 14, 2022, amid warnings from US and Western European intelligence about a possible war, President Volodymyr Zelenskyy signed a decree establishing a new holiday on February 16 - the Day of Unity.
Back then, in early February 2022, few people believed that Russia would actually start a major war, and the Day of Unity once again reminded us that our strength and power lies in unity. Read about the origins of this holiday and its significance in 2023 in OBOZREVATEL's article.
The history of the holiday
In the winter of 2022, there were many warnings about the date of the Russian invasion. At that time, Russia had already gathered thousands of troops near the Ukrainian border under the pretext of so-called exercises.
Western media warned that the invasion would take place on February 16. Ukrainians tried not to panic and go about their daily routine.
Presidential Decree No. 53/2022 established a new holiday, the Day of Unity. This was done in order to consolidate society, strengthen the spirit and reduce psychological pressure, because, as we remember, in February 2022, all news feeds were full of scary headlines about the impending war.
The holiday showed that Ukrainians are strong in unity, we are proud of our nation and want to live in peace. As it turned out, there were only 8 days left before the war.
Celebrating traditions
Amidst the war, shelling, blackouts and daily tragedies, the Day of Unity has taken on a special meaning. It is another opportunity to remind the world that we are fighting and will continue to fight for freedom and a happy future.
On February 16, the national flag is to be raised in all settlements and the national anthem is to be performed at 10:00 am. Diplomatic missions abroad will also hold events to support Ukraine.
On this day, you can recall folk traditions, wear a vyshyvanka (embroidered shirt) or attach a blue and yellow ribbon to your clothes. Of course, in times of war, we should not forget who helped us survive and make a donation to the Armed Forces. Ukrainians who have received temporary protection abroad can unite and come to the main squares of their cities to remind them of the need to support our country.
And most importantly, we all believe and will make every effort to celebrate Unity Day in a free country in 2024.
Earlier, OBOZREVATEL told how Ukrainians celebrated the Unity Day in 2022.
Subscribe to OBOZREVATEL's Telegram and Viber channels to keep up with the latest news.