Trending:
Ukraine is ahead of the enemy in the development of innovative drones: WP spoke about the role of artificial intelligence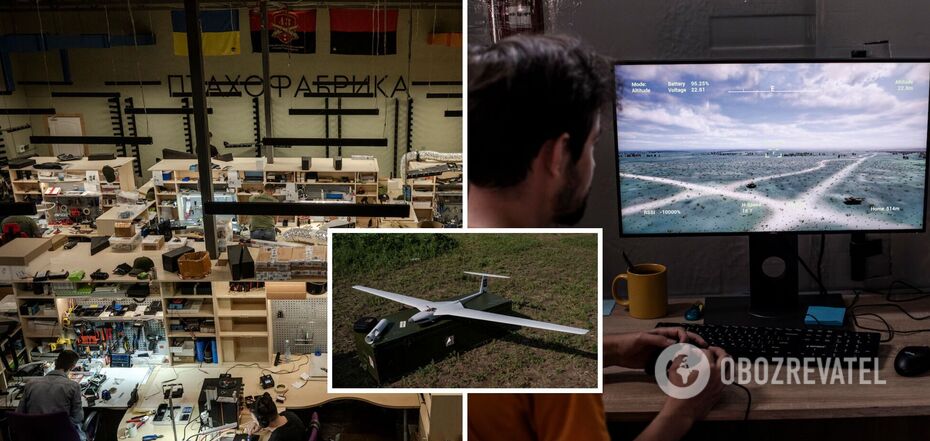 Ukraine is ahead of Russia by incorporating AI technology into UAVs
The war has turned Ukraine into a kind of superlaboratory for the invention and development of innovative drones, attracting investment from prominent businessmen, including ex-Google CEO Eric Schmidt. More than 200 Ukrainian UAV companies are now working side by side with military units on the front lines to refine drones to improve their ability to destroy and spy on the enemy.
About this writes the publication The Washington Post. It is noted that more and more Ukrainian military drone development companies are introducing artificial intelligence technology.
New AI software in drones takes into account electronic obstacles, which Russia now often uses, stabilizing the drone and keeping it on pre-selected targets. AI capabilities help the UAV accomplish its mission even if its target is moving, a significant improvement over existing drones.
"It's a 24/7 technology race. The challenge is that every product in every category has to change daily to gain an advantage," said Mykhailo Fedorov, Ukraine's Minister of Digital Transformation.
Fedorov is in charge of Ukraine's Drone Army program, which aims to maximize Ukraine's use of reconnaissance and attack drones to offset Russia's significant air superiority.
Last year, the program helped private companies train more than 10,000 drone operators, with plans to train the same number of operators over the next six months.
The process of signing contracts for drone procurement between companies and the Ministry of Defense has also been accelerated - the process has been reduced from two years to two months.
Meanwhile, the Ukrainian Ministry of Defense has shared Russian jamming technologies with drone manufacturing companies, allowing them to test their products against the most advanced electronic warfare equipment. Such a privilege is not available to the majority of international drone manufacturing companies.
Military drone manufacturers also receive constant feedback from the front lines, allowing them to make immediate adjustments to reduce vulnerabilities and improve the effectiveness of UAVs.
Fedorov noted that Ukraine estimates that Russia destroys about 1,000 Ukrainian drones every month. This pushes the search for ways to increase UAV production.
As the publication notes, the types of drones being developed in Ukraine are very diverse. Improvements in speed, range, payload and other capabilities have an immediate impact on the battlefield, allowing Ukraine to destroy Russian equipment, blow up observation posts and destroy the Crimean bridge.
The inexpensive UAVs, which Ukraine produces by the thousands each month, can carry bombs but are vulnerable to Russian jamming. However, a new artificial intelligence-based targeting system allows UAVs to stay focused on the target, even if the vehicle loses contact with the human operator due to obstacles or the presence of a large physical object, such as a hill. Rostislav Olenchin, co-founder of Twist Robotics, said.
"Once the target is fixed, the drone is controlled by this system," Olenchin explained. The drone's sensors recognize the physical features of the target and adjust the flight path accordingly.
Former Google executive Eric Schmidt, who advised the Pentagon on artificial intelligence technologies, is positive about the Ukrainian drone market and, along with other investors, has invested $10 million in Ukrainian startup gas pedal D3, which invests in drones and other defense technologies.
"Ukraine is constantly ahead of the enemy in innovation," Schmidt emphasized.
Eric Schmidt welcomed Ukrainian advances in drone technology, including artificial intelligence software and UAVs operating without GPS navigation. He is convinced that drones in the future will play a crucial role on land, in the air and at sea in clearing fields and forming "ruthless swarms of kamikaze drones equipped with artificial intelligence."
"The future of warfare will be dictated and led by drones," Schmidt said.
According to people familiar with the matter, Schmidt is interested in investing millions of dollars in Ukraine to expand drone production, the publication notes.
As reported by OBOZREVATEL, the Israeli company Israel Aerospace Industries presented its Rotem kamikaze drones. These drones can accelerate up to 370 km / h and attack targets with an accuracy of 1 meter.
Only verified information we have in our Telegram channel Obozrevatel, Threads and Viber. Do not fall for fakes!