Trending:
U.S. has unharmed UFOs and evidence of aliens: details of sensational congressional hearings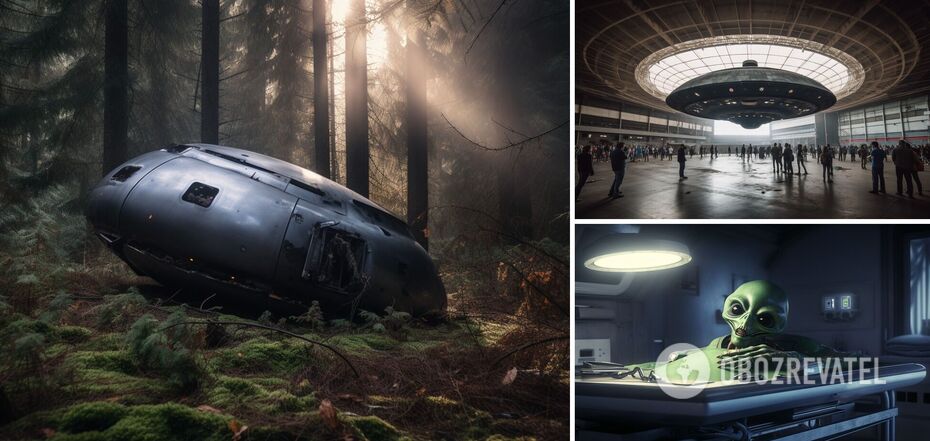 UFOs have likely been in the hands of humans for a long time
The United States of America most likely has extant extraterrestrial aircraft (UFOs) and is using them to build similar aircraft for its own use. U.S. authorities also have evidence of extraterrestrial intelligence as well as an alien body or remains.
This was stated during a Congressional hearing by witnesses to the existence of a secret UFO research program - former U.S. Navy aviators Ryan Graves and David Fravor, who reported encounters with unknown objects in military training airspace, as well as combat veteran and Pentagon intelligence officer David Grush. It was the latter's statements to the media that made a lot of noise and brought the country back to a serious discussion of UFOs again. OBOZREVATEL talked about Grush's statements here.
UFOs in the U.S. are now being referred to as unidentified aerial objects (UFOs) because most "alien" sightings later turn out to be natural phenomena or weather probes rather than spacecraft. In particular, the Pentagon called 650 reports of UFOs nothing.
During the hearing, the congressmen demanded transparency from the Pentagon about UFOs and reminded them that the agency works "for us, for this government, not us working for them."
Pears said in his testimony that he had been informed of the existence of a "multi-year aircraft debris retrieval and re-engineering (UFO) program," but was denied access to it, so he came forward to denounce it.
Pears revealed that his findings were based on "information provided to me by people with a long record of legitimacy and service to this country, many of whom also shared compelling evidence in the form of photographs, official documentation and classified oral testimony provided to me and many of my colleagues."
He also confirmed to the congressmen the existence of advanced technology programs outside of congressional oversight.
However, he declined to disclose whether he was aware of images of vehicle crash sites of unknown origin, noting that he could not talk about it in an open, unclassified setting.
As Space writes, in addition, Grush refuted the words of the head of the Pentagon's Office of Anomalies in All Spheres Sean Kirkpatrick regarding the fact that the U.S. government has no evidence of the existence of non-human intelligence.
"It's not entirely accurate," Grush said when asked to confirm what the official said.
He also confirmed that the Pentagon had waged a disinformation campaign aimed at denying the existence of unrecognized aerial phenomena. Pears said that there was indeed such a campaign, but said he could not add anything other than what he had already publicly stated.
He was also asked about whether his statements regarding the U.S. having unharmed spaceships and alien bodies or species were indeed true. In particular, the congressmen wondered if he had seen them with his own eyes.
"It's not something I've witnessed myself," Grush replied.
But he explained that "biological substances" had been found along with the wreckage of the aircraft. When it was clarified whether he was referring to human remains, he objected.
"Non-human, and that was the assessment of the people I talked to who have direct knowledge of the program," Grush replied.
He also said he was aware of "reverse engineering programs for extraterrestrial craft". This refers to a type of development where an existing vehicle is taken apart, studying how it was built, in order to then reproduce a copy of it on its own. The practice of reverse engineering is common among many countries around the world, both in terms of "stealing" high technology and ultra-modern weapons.
For his part, Graves said that unidentified aerial objects in U.S. airspace are very underreported.
"These sightings are not rare or isolated. They are routine. Military aircrew and commercial pilots - trained observers whose lives depend on accurate identification - often witness these phenomena," Graves said.
He said pilots have seen objects on the U.S. East Coast that appeared to remain stationary in front of hurricane-force winds and then suddenly accelerated to supersonic speeds.
The pilot also said that the pilots themselves were also reticent to report these sightings to their command, as it effectively puts a crimp in their future careers.
Earlier OBOZREVATEL told about the report of Ukrainian astronomers, who said that since the beginning of the full-scale invasion of Russia in Ukraine began to record a significant number of unidentified flying objects flying well above the existing drones. Airplanes, on the other hand, have not flown over Ukraine since February 2022.
Subscribe to OBOZREVATEL's Telegram, Viber and Threads channels to stay up to date on the latest developments.