Trending:
Turkey deports Russian tourists en masse due to the war in Ukraine: it is almost impossible to get a residence permit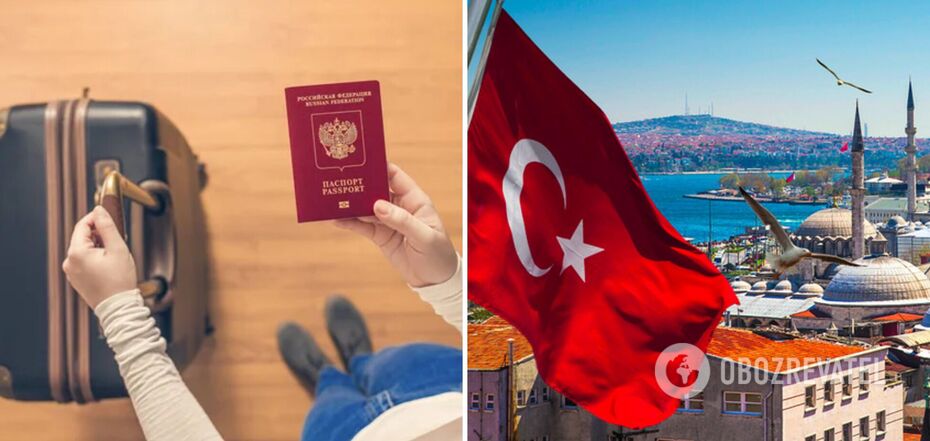 Turkey is deporting Russian tourists en masse
For Russian tourists, entry to Turkey is visa-free, but only for 60 days. After this period, it is necessary to apply for a temporary residence permit (ikamet) at the Office for Foreigners. And if earlier it was not difficult for Russians to obtain it, now the document is being denied en masse, to which citizens of the terrorist country react with hysteria.
In order to obtain a residence permit in Turkey for a year, Russians had to confirm their income and their status as a landlord. Last spring, this period was reduced to six months for those coming from the aggressor state. Currently, there are more and more complaints from Russians who have been denied ikamet, Russian media report.
The massive deportation of Russians from Turkey is linked to Russia's full-scale invasion of Ukraine. And although tourists are denied residence permits with the wording "unclear reasons for staying in the country," they themselves guess that Russian aggression is to blame.
Russians are scared: "I have a friend who lives in Izmir, and she has already been denied an extension. In the last six months, a rule has been introduced that a bank statement is a prerequisite - to renew, you need to see the receipts for a month. The amount per person is at least 20 thousand lira. All of us who planned to renew in October put money on the card with a reserve, made sure that everything was in order. There is also a standard package of documents that has always been there: insurance, a lease agreement for the apartment, rewritten in our names. With this set of documents, we were supposed to go to a rendezvous on Friday with all our documents, and on Thursday there was information in local chats that people went to the rendezvous and were denied, saying that from today all Russians are denied an extension, no matter what documents you have, what bank statements you have."
According to the Russians themselves, the only way they can get a tourist residence permit now is to buy real estate in Turkey.
"But this all applies to those who received ikamet after February 10, 2022. If you lived in Turkey before February 10, 2022, and your first ikamet was obtained earlier, before that time, then you can be extended," say the red passport holders, realizing that the events of February 2022 made them outcasts around the world.
Another fugitive from the Russian Federation complained that he was fired from his job in Turkey after his country's invasion of independent and sovereign Ukraine. The man does not hide the fact that this happened, most likely, because of his position.
"I worked in a government agency, and I was unmotivatedly fired. As a result, my work visa expired, and I had to leave the country within ten days. In general, this was also somewhat related to the events of 2022, as I never really hid my position. I think it had an impact in my case," said a Russian man who had lived in Turkey for more than eight years.
The man lamented that he was now forced to leave the country, as his entire history in Turkey had been burned, and seek asylum in Europe.
"My entire history of staying here has been burned. Now I can't apply for a permanent residence permit and, theoretically, for citizenship - if you have been working officially for five years, you can apply for citizenship, but it all burned down, and I applied as if I had just arrived," said the citizen of the rogue country.
Earlier, Russian tourists threw a tantrum because they were fined 200 euros (8 thousand hryvnias) in a Turkish hotel. The owner claimed that the guests had damaged the property, while the Russians claimed that they were victims. Read more in our article.
OBOZREVATEL also wrote that Lufthansa refused to fly a Russian woman because of her citizenship. She threw a tantrum on social media.
Only verified information is available on our Obozrevatel Telegram channel and Viber. Don't fall for fakes!