Trending:
Totally transform your room: which indoor flowers are best for hanging planters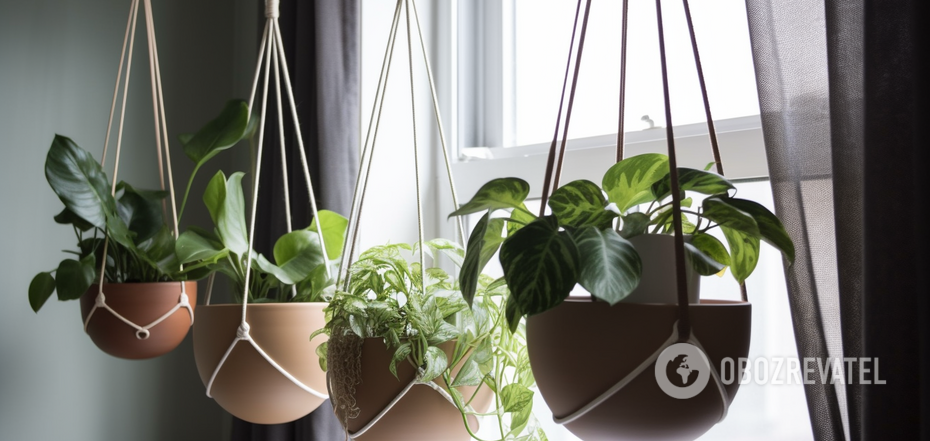 What plants to choose for hanging cachepots
Houseplants can refresh and beautify your interior, and to create a better visual effect, you can use a hanging cachepot. This is a great flyhack, which will suit even for small rooms and limited space.
Experts advise choosing pots made of natural materials and with thick sturdy walls. Which indoor flowers are best suited for hanging cachepots, told Best Life Online.
Pothos
It is a variety of evergreen climbing plants in the aroid family. There are many varieties of potus, and almost all of them are perfect for hanging planters.
Erinn Witz, gardening expert and co-founder of Seeds and Spades, said these indoor plants are unpretentious to care for and grow quickly. She advises choosing marbled pothos.
"You will get a balance: interesting variegated leaves, extremely easy care and fast growth," the expert noted.
Another option is golden potus. It is actually a heart-shaped liana that grows in a heart shape and has dark green leaves with golden markings. Pothos act as air purifiers.
String of pearls
The string of pearls looks unique. "It's a succulent with long stems and globular leaves, which is very similar to a string of pearls," emphasized Gene Caballero, co-founder of GreenPal.
The threads run downward, creating a green waterfall effect. The plant needs bright light and well-drained soil. It is important to optimize watering to avoid root rot.
Chlorophytum
Chlorophytums are known for their resilience and ability to adapt to different conditions and light. The plant will grow ideally in bright, diffused light. Chlorophytum should be watered abundantly during the warm season and reduce watering in winter. In the heat it is useful to spray occasionally with cool water. Chlorophytum has a very developed root system. The roots, growing, can cause cracks in the bottom of the cachepot, so you should choose a reliable and high-quality container.
Monstera Adanson
Monstera Adanson looks quite interesting, because it has large holes. The glossy green leaves are actually very sturdy and unpretentious, and are easy to care for.
Philodendron mycans
Philodendrons are a diverse genus of plants, including about 500 species of lianas and semi-shrubs. Plants have long aerial roots. Philodendron mycans is suitable for a cachepot - the soft velvet surface combined with a perfect balance of green and delicate burgundy color will become a real decoration of the house. Philodendron mycans will grow best in a place with diffused sunlight, and excessive watering can lead to unpleasant consequences
Earlier OBOZREVATEL told, what plants you can decorate the corridor, where there is always a strong lack of light.
Subscribe to the channels OBOZREVATEL in Telegram , Viber and Threads to be aware of the latest events.