Trending:
Top 6 European countries popular with tourists with the highest number of pickpockets: how to avoid becoming a victim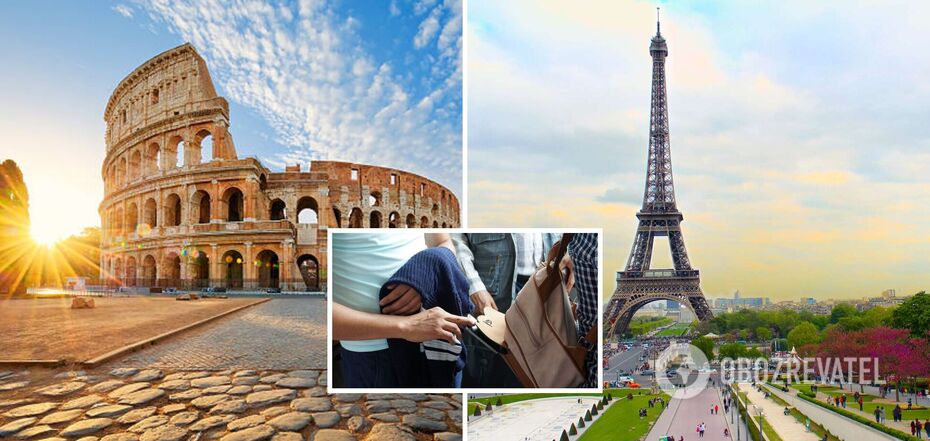 European countries with the highest number of pickpockets
Before traveling abroad, many travelers are afraid of pickpockets and losing their money, phone, or other valuables. Indeed, in busy areas and near popular attractions, tourists have to be especially vigilant, because it is there that they are at the greatest risk of becoming a victim of a thief.
Experts from Quotezone.co.uk have released a report in which they ranked European countries by the level of risk of becoming a victim of pickpocketing. To do this, they analyzed tourists' reviews and reviews of certain places, which mention unpleasant experiences with theft, Euronews reports.
Thus, according to the resource, the country with the highest probability of becoming a victim of pickpockets was Italy. Visitors to the Colosseum, Trevi Fountain and Pantheon in Rome, the Duomo di Milano in Milan and the Uffizi Gallery in Florence mentioned the theft of items in 1,906 online travel reviews over the past year. This corresponds to 463 mentions of pickpockets for every million visitors to Italy's major attractions, the highest rate of any European country.
France is in second place with 283 reviews per million visitors who have become victims of pickpocketing. All five attractions monitored by Quotezone experts are located in the country's capital, Paris.
The Netherlands ranked third in the pickpocketing index, and Germany ranked fourth. The top five in this list of anti-records is closed by Greece.
Despite Barcelona's reputation, Spain ranked only sixth on the list. There were five times fewer mentions of theft in reviews than in Italy.
The countries with the lowest number of reports of pickpockets were Ireland - 30 mentions per million visitors and Poland - 18 mentions.
How to avoid becoming a victim of a pickpocket abroad?
Greg Wilson, founder and CEO of Quotezone, warns that theft can happen anywhere, and tourist attractions are the most convenient places for criminals to take possession of vacationers' wallets and purses while they are busy sightseeing or taking photos in front of iconic sites.
"Iconic landmarks like the Eiffel Tower in Paris and the Trevi Fountain in Rome are particularly popular with pickpockets because they can move unnoticed in large crowds," Wilson said.
He recommends that tourists leave valuables, such as expensive jewelry, in a hotel safe, and take a reliable cross-body bag with a zipper when traveling.
"Try to never leave personal belongings unattended, as travel insurance companies require reasonable care and may reject theft claims if items are left unattended. It is also important not to forget to write a statement to the police about the loss or theft of an item if you are a victim of a pickpocket, as this will be a confirmation of the insured event," the expert added.
He also advised to have copies of important documents and store them online.
Earlier, OBOZREVATEL wrote about the best cities in Europe for an autumn trip. See our article for the top destinations for your vacation.
Only verified information is available on our Telegram channel Obozrevatel and Viber. Do not fall for fakes!