Trending:
Top 10 most luxurious American cars of all time are named. Photo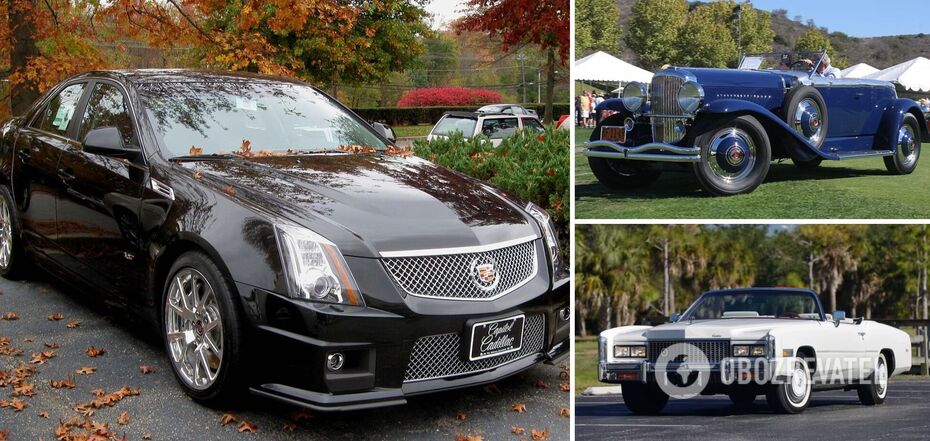 The Cadillac CTS-V, Duesenberg Model J, and Cadillac Eldorado: each became symbols of American luxury in their own era.
The American car industry was designed for mass production of cars, so the name of the inventor and car designer Henry Ford became legendary for a reason. However, manufacturers in the USA aspired to give their cars a luxurious look for many reasons.
Topspeed has compiled a top ten list of the most iconic American luxury cars from old to new ones.
Duesenberg Model J (1929)
Auto Brand was founded by brothers Fred and August Duesenberg in Indianapolis, Indiana. During World War I, their company began building aircraft and marine engines and then turned its focus to racing cars and luxury personal autos. The company's engineers combined both approaches into the Staright-Eight Model J, whose engine could produce a fantastic 400 horsepower for its time when most cars had double-digit horsepower. Unfortunately, these incredibly expensive luxury cars came out around the same time as the stock market crash that caused the Great Depression, and therefore were not in high demand.
Cadillac V-16 (1930)
The brand's first models looked rather nonsensical, but in the late 1920s and early 1930s its name began to be firmly associated with luxury and style. The V-16 model, as you might guess from the name, came with appropriately configured engines. They also offered 10 different body styles that were customized. In 11 years, only 4,076 of these expensive Cadillac cars were produced.
Cadillac Sixty Special (1949)
Having survived the Great Depression and World War II, luxury American cars had noticeably lost their luster in the 1940s. But Cadillac was determined to get things back on track. After a complete redesign in 1948, the Sixty Special received styling inspired by the World War II P-38 Lightning fighter. It received a V-8 engine that was more powerful and lighter than the engine of the previous configuration of the same car.
Continental Mark II (1956)
This car was part of the first generation of the Mark series and became the most expensive American car of its day. It wasn't even competing with Cadillac, it was chasing Rolls-Royce Silver Cloud and Bentley Continental. The Mark II was assembled by hand and emphasized production quality.
Chrysler 300C (1957)
The Chrysler 300 Letter Series were high-performance and luxury cars produced from 1955 through 1965. They were named after the 300-horsepower FirePower V-8 engines they were equipped with. They are called the first real American muscle cars. They were unrivaled in terms of power in their time. These cars combined luxury and performance.
Buick Riviera (1965)
Not only did this car look very special and powerful, it was also equipped with luxury features such as an adjustable steering wheel, power windows and seats and walnut wood interior inserts. The 1965 Riviera Gran Sport was not only equipped with advanced technology but also had a modernized engine, suspension and exhaust system. According to experts, this model managed to throw Ford Thunderbird from the pedestal of the most luxurious car in America.
Cadillac Eldorado (1976)
This was the last year that the Cadillac Eldorado was available with a convertible top (this option didn't return until 1984). The model was also promoted as the last American convertible. The marketing strategy worked. It was bought not as a personal car, but as a real artifact. The last 200 Eldorado convertibles were sold with a Bicentennial Edition ornament commemorating the 200th anniversary of American independence. They came with special patriotic stripes, stitched leather seats and commemorative plaques. They were also equipped with the Cadillac 500 engine signature. It spent 26 liters of gasoline per 100 kilometers of travel, which was extremely unfortunate in the midst of the oil crisis that lasted in those years.
Lincoln Continental Mark V (1977)
The Lincoln Continental Mark V was something like the "six hundredth" Mercedes for the "new Russians" in the 1990s for the American rich, particularly those who had made their fortunes illegally. No one took them seriously unless they were behind the wheel of this coupe. A big and bright symbol of tastelessness embodied the craving for excesses inherent in the seventies. It was the most popular Mark Continental: 228,262 units were sold in three model years. It had a decent engine, but this car was intended for slow movement and flaunting on the road, not for street racing.
Cadillac CTS-V (2009)
The eighties and nineties were a period of decline and forced luxury in the American auto industry. It wasn't until the new millennium that the trend returned with the introduction of the Cadillac CTS in 2003. Cadillac, however, redefined the concept of luxury. They were no longer oversized "land yachts". New times demanded a new approach. The auto had to be well thought out in terms of design and power. The relatively affordable price added points to the model.
Lucid Air Sapphire (2023).
The electric car revolution has once again changed the idea of what American luxury means. Now incredible power must be provided by an environmentally friendly and quiet engine. The most popular in this segment is Tesla, despite the luxurious price tag. These cars are finished with an emphasis on utilitarianism. However, Lucid Air does not give up the traditions of luxury in everything. It has more power, better range and the most advanced modern features.
Earlier OBOZREVATEL reported on the unexpected conclusions of comparison of expensive and budget modern electric cars, which surprised even experts.
Subscribe to OBOZREVATEL channels on Telegram and Viber to be aware of the latest events.