Trending:
This cruel lifehack will help you grow huge tomatoes without hassle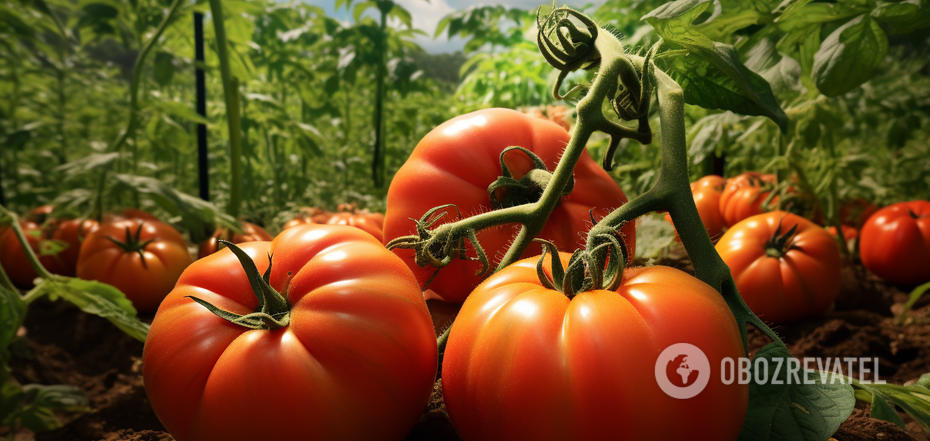 How to grow large tomatoes
Tomatoes are very unpretentious crops, but gardeners may sometimes get small watery fruits instead of a generous and tasty harvest. There can be many reasons for this, including improper watering or excessive summer heat.
A lifehack that will help to grow huge tomatoes without too much hassle is gaining popularity online. Experienced vegetable gardening expert Chris (@noveltyseeker) published a video that quickly went viral.
The expert advises resorting to a radical method of removing small fruits at the initial stages of growth. As soon as the first small tomatoes or peppers appear on the bushes, you should cut the stem two leaves below the top of the plant.
The main rule when pruning tomatoes is to make sure that the culture has already reached 40-50 cm in height. Several shoots should have already appeared on the main stem by that time. If the bush is smaller, the plant may simply not recover from the shock.
"When you cut a bush this way, all the energy goes to the root system. This will allow the plant to grow bigger and stronger and provide a bountiful harvest," Chris noted.
This easy trick is recommended for plants with a long growing season only.
Pruning should only be done when all moisture on the plant has dried (rainfall or dew). "Wounds" need time to heal, so dry pruning will reduce the risk of diseases infecting the plant.
By the way, tomatoes take a lot of nutrients from the soil, thus, their root system makes the soil denser and less permeable to air and water. To know what are the plants-siderates and why they should be planted after tomatoes, read our material.
Earlier OBOZREVATEL shared when and how to harvest beets and carrots in the fall.
Subscribe to OBOZREVATEL channels on Telegram and Viber to be aware of the latest events.