Trending:
They started to distribute summonses to university students in Moscow, law enforcers raid them - mass media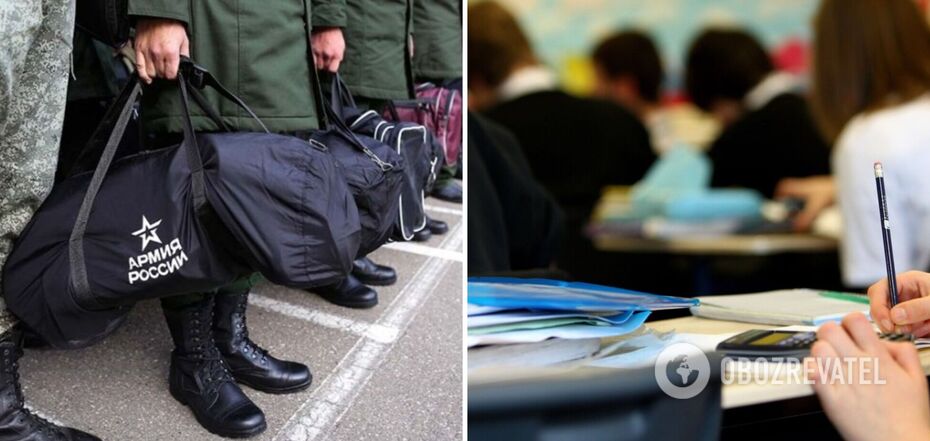 Russians are taken into the army from dormitories and even from their own apartments
In Moscow, they began to serve summonses on university students. At the end of April, students from at least three institutions of higher education, including those with draft deferments, received invitations to the military registration and enlistment office.
The Meduza newspaper also reports that the Russian law-enforcement agencies are raiding the universities in order to fulfill the spring draft schedule more quickly. According to the newspaper, one of the students, 22-year-old Artem Anisimov, lost his deferment because he re-enrolled at the university, but continued to sue the military registration and enlistment office for declaring him fit for service.
On the morning of April 22, he was taken straight from his dorm room at MIREA University to the military registration and enlisted in the army and sent to a collection point almost immediately.
Artem's friends consulted the coordinators of the "Movement of Conscientious Objectors" (MCA) community, collected a handout for him, and drove to the collection point. They wanted to give him a cell phone (unlike smartphones, they are not banned in military units), paper, a pen, a toothbrush, and toothpaste.
According to a student who tried to give her things to Anisimov, she was met by three drunken employees who refused to hand over even hygiene items.
The next day the draftee's friends took the human rights activist with them, but she was not allowed into the assembly point either and was insulted when she asked to introduce herself. The police accepted the human rights activist's complaint, but warned her in advance that it would remain unanswered. "Well, you understand that we won't do anything, don't you?" the officers on duty told her.
The MCA assumes that Anisimov's phone was deliberately taken away from him so that he could not consult with human rights defenders. Thus, a draftee can declare his disagreement with the decision and demand to exercise his constitutional right to judicial protection. He can write a statement to this effect to the head of the assembly point.
"They persuade me: 'Now you'll go to a good unit, but if you show off, you'll go to the worst unit. In general, they start threatening, seducing, and making heart-to-heart talks. It's all aimed at one thing: to find a sore spot and force the student to join the army," said the Coordinator of the Voluntary Society for Military Service.
According to her, if a student does not sign a contract for military service, he should not be sent to war in Ukraine.
"Traditionally such raids take place sometime after the May holidays. I have a suspicion that now they are trying to fulfill the draft plan as quickly as possible, and then they will deal with mobilization issues. Because it is impossible for them to simultaneously deal with the flow of mobilized people and the flow of conscripts," says the human rights activist.
The "Meduza" also tells the story of another Muscovite, a 22-year-old boy who called a police squad in the morning of April 19, as someone was trying to get into his apartment through the door. But when the police arrived they grabbed him, took his passport and took him to the enlistment office in handcuffs. The reason for his detention was that he was allegedly wanted as a draft dodger.
At the military registration and enlistment office he was "forced to sign a summons to the army". Later he demanded to invalidate it and wrote an application with a request to replace his military service with alternative civilian service.
Volunteers of the project "Go to Forest", which helps Russians avoid military service, receive 150-200 complaints every day about such inappropriate actions of military commissars and security services, as well as about summonses with mistakes, thrown into mailboxes or handed to students during exams. Such reports come both from those who were handed a summons on the street and from those who, after receiving it, presented themselves at the military registration and enlistment office.
The most frequent raids take place in large cities, with Moscow leading the list, the MSA said. The capital of Russia has the largest number of universities and dormitories attached to them. Recruits from the dormitories have practically no possibility to barricade themselves from the police or military commissars: the commandants have keys to all the rooms.
But it is also more difficult now for those who live in their own apartments to hide from the draft. Earlier, Colonel Maxim Loktev, Military Commissar of Moscow, said that the system of "smart cameras" is used, among other things, to find conscripts. However, the "Go Forest" project believes that hundreds of thousands of draft evaders "no one will search through the cameras."
As reported by OBOZREVATEL:
- Russia launched a propaganda advertisement for recruitment to the war. It boils down to the fact that Russians who do not fight in Ukraine are supposedly "not men. At the same time, the volunteers are promised large salaries.
- However, the stated 400 thousand are unlikely to be recruited, according to British intelligence.
- According to Kyrylo Budanov, head of the Main Directorate of Intelligence, about 20,000 people are mobilized in Russia every month. Of the total number of mobilized people, about 120,000 have still not been transferred to Ukraine. Apart from them, Russia is trying to compensate for losses in manpower by transferring "peacekeepers" from Karabakh, and instead they send conscripts to the conflict zone.
Only verified information in our Telegram channel Obozrevatel and in Viber. Do not be fooled by fakes!