Trending:
These simple kitchen products will help clean yellowed plates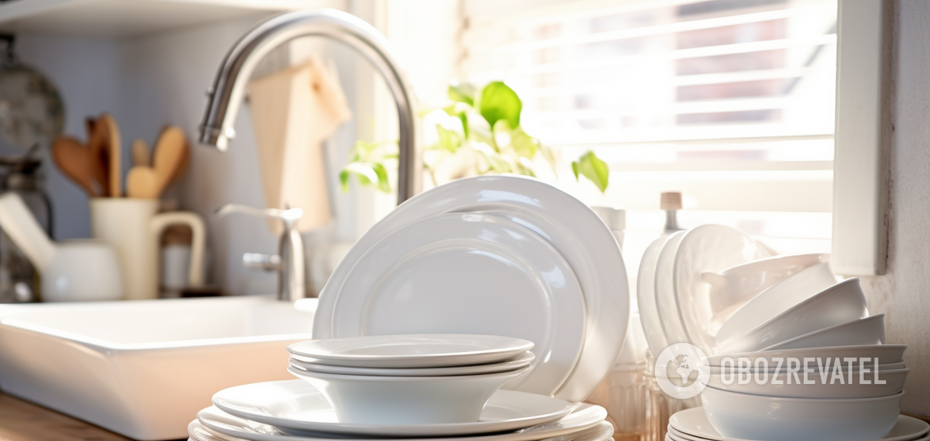 It's easy to restore the whiteness of the plates and the means for this are inexpensive
Yellowing can be a problem with white items, including dishes. It can be caused by food residue, grease stains, or improper care.
Fortunately, the problem can be solved. You will need simple tools at hand that are inexpensive and sold in any store. OBOZ.UA shares the most effective ones.
Citric acid
The food-grade citric acid dry powder can be used both as a solvent to cope with stubborn stains and as a light abrasive to remove dirt mechanically. To do this, wet the yellowed plates and sprinkle them with the acid powder. Leave the items for 20 minutes for the product to work, and then wipe them with a sponge and rinse. It is better to wear gloves to protect your hands.
Baking soda and hydrogen peroxide
These two products in combination have an even better effect than citric acid. To harness the power of baking soda and hydrogen peroxide, mix them in equal proportions and apply them evenly to the plates you plan to clean. After 20 minutes, wipe the surface with a sponge and rinse under water. In addition to whitening, this cleaning will also disinfect the dishes.
Mustard powder
This product perfectly degreases surfaces and gently cleans them. However, it will take a lot of time to treat yellowed plates with mustard powder. Take 250 grams of the dry product and dissolve it in a large bowl of hot water. Put the plates in this solution and leave them to soak for 10 hours. When the dishes are well-soaked, simply wash them as usual. It should shine with whiteness again.
Earlier, OBOZ.UA shared how to clean kitchen faucets from lime stains quickly and easily.
Subscribe to OBOZ.UA on Telegram and Viber to keep up with the latest events.